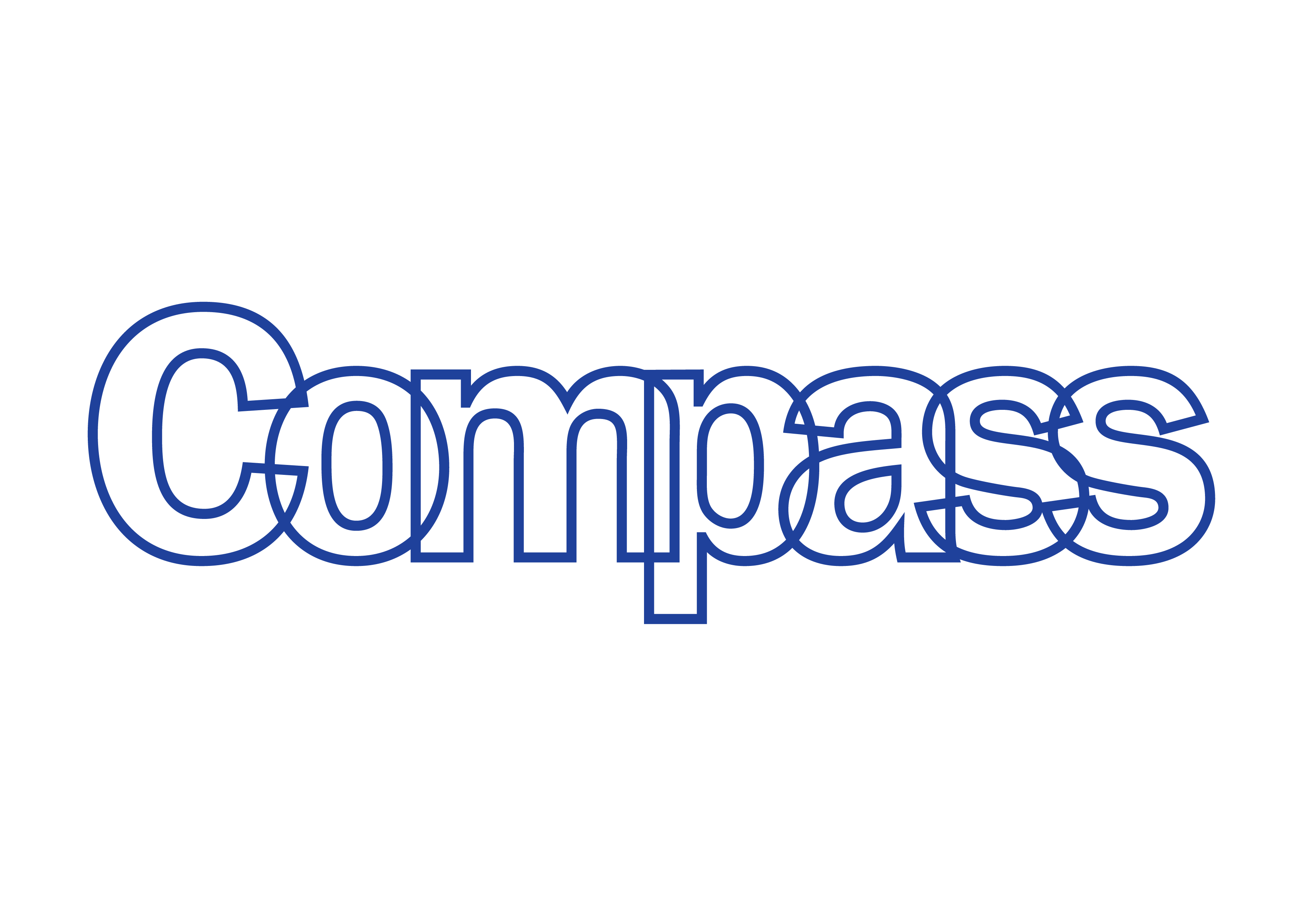 Read a round-up of our most recent MHST staff stories.

Hundreds of students engage in Peer Wellbeing Project across North East Lincolnshire
Nearly 400 school students in North East Lincolnshire have so far benefitted from a Peer […] Continue reading
---
Comprehensive suite of workshops for CYP and school staff
Staff at Compass Be have developed original workshops for primary and secondary school children and young people.
Promoting friendship skills for young people
A successful series of events about friendships and relationships has been delivered by Compass Changing Lives staff in Derbyshire.
Sue Berry, Assistant Director in charge of Compass Changing Lives, said: "The sessions aim to encourage positive wellbeing in young people and educate them on friendship skills in order to reduce the potential negative impacts that friendship difficulties can have on mental wellbeing.
"This, in turn, aims to reduce the need for more intensive support later on for young people."
---
New branding will help us change lives in Derbyshire
Compass Be's Kirsty speaking in school assemblies
Kirsty Taylor, the Healthy Relationship Practitioner for Compass Be, has been delivering assemblies to secondary schools across Barnsley to increase awareness about how we can help.
Kirsty said: "Visiting year seven students in their secondary school, following workshops from the previous academic year is providing a consistent and reliable approach."
And she added: "It's all about building trust and showing we are here to consistently support the students."
---
---
New 5 Ways to Wellbeing campaign available for all services
Staff in all of Compass's services have been given access to a new awareness campaign based around the Five Ways to Wellbeing, with the stresses and strains of the Christmas season in mind.
The Compass campaign includes a downloadable teachers' pack with interactive challenges, a pack for young people, posters for schools and social media posts.
The assets and packs and social media are available to download at U:\One Compass Comms Group Resources\Campaign – 5 Ways to Wellbeing Dec Jan 2022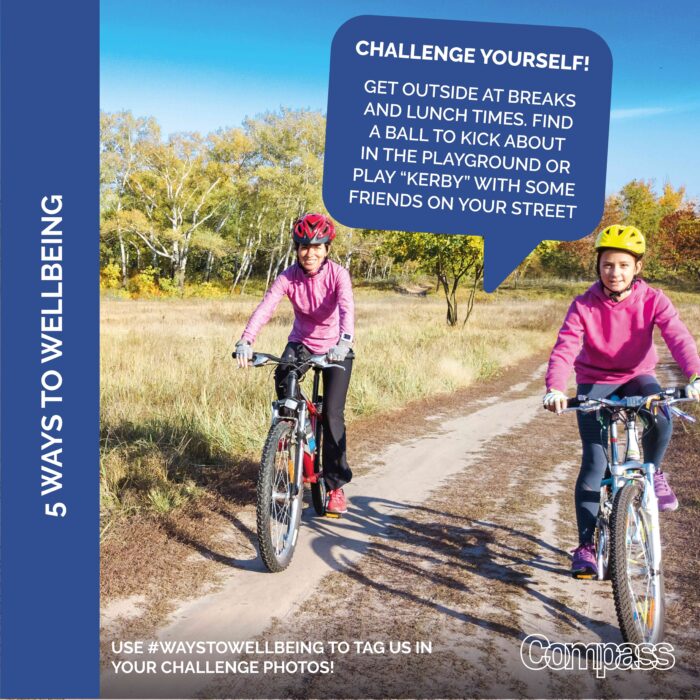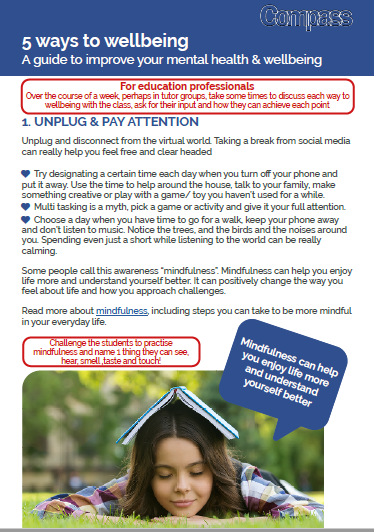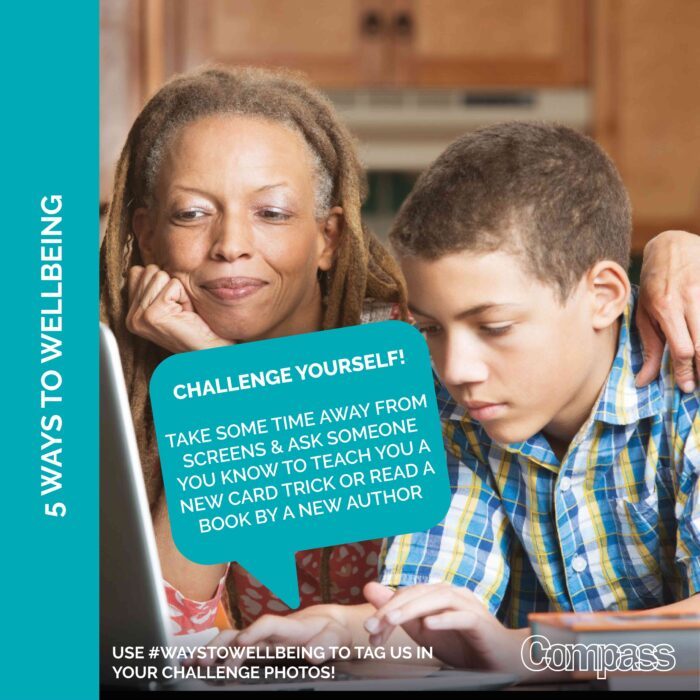 Although, Christmas was the impetus for the work, the festive season is not referenced anywhere in the campaign so it is hoped it will remain useful all year round. The campaign is already being used in services and is being offered to people attending the Positive Effect DfE Senior Mental Health Lead training.
Cliff Edwards, Marketing and Communications Manager, said: "This is designed to be used by all services within Compass any time they like. It can be adapted. We're not precious if managers prefer to change bits to make them more relevant for their stakeholders."
The assets were created in conjunction with C4H Mental Health and Wellbeing Lead Helen Rogers and Health and Wellbeing Trainer Danielle Grant. Lisa Gale, Assistant Director Operations (North), helped with messaging. The design work was done by Laura Sutcliffe, C4H's Marketing and Digital Communications Officer.
---
Where she belongs: Melanie welcomed back with open arms
Melanie Simcoe, formerly of Compass BUZZ, is now loving life at Compass Bloom after a four year break.
---
Andrea thinks creatively in her quest to support a child with anxiety
Compass GO… Supervising Practitioner Andrea Paxton, has helped to support an anxious child, who is unable to return to school after surgery, by using craft techniques.
Andrea said: "I love that we are able to adapt our work to suit each individual child and the impact this can have is just amazing. I love my job!"
---
Lancashire trainees ready to make the next step
Romy Kale at Compass Bloom says she "can't wait" to become fully qualified.
She said: "We're now nearly done with our course and so a couple more weeks and we'll be finished – we'll be qualified education mental health practitioners."
---
Chance for our staff to join teachers in discussions on Whole School Approach
Staff are being invited to join an online discussion with teachers on aspects of the whole school approach to health and wellbeing.
Rose Kearns, Business Development Assistant Director, says: "Positive Effect would like to extend the invitation to this Community in Practice MS Teams event to anyone involved in Compass MHSTs or those that are supporting settings to develop a whole school approach,
"We believe… all will benefit not only from the lessons learnt from the speakers but by hearing different perspectives."
---
Building professional relationships within the community in Lancashire
"These events are the foundations of strong relationships that put children at the centre of what we do" – Eve Allen, Compass Bloom Team Leader
---
Anti-bullying week messages of hope
---
Compass Be, Phoenix and Positive Effect work together to produce a new bereavement package
Click the link to read how our staff use our4 collected experience and knowledge across Compass.
---
Our Senior Mental Health Lead Training receiving great feedback.
Training Officer Danielle Grant, who conducts our Senior Mental Health Lead training courses, says: "The Compass course has been developed in conjunction with our MHSTs to reflect the Compass whole school approach audit and action planning process. It costs £795. This leaves the school with £405 to spend on staff backfill to enable the SMHL to attend the course, or – as we encourage them to do – on wellbeing initiatives!"
Read all about this work we do. There's also a great video giving you more information.
Derbyshire contract beginning on 1st January
Rachel Bundock, our CEO, welcomed the award of a new contract to provide MHST services in Derby and Derbyshire.
She said the organisation's wide experience has helped it develop a unique model.
Rachel added: "We are absolutely delighted to be delivering this incredibly important service and we recognise the trust placed in us to do our very best for the children and young people of Derby City and Derbyshire.
The new service will employ 88 people.
Read more below.
---
Contract extension for GO…
Compass GO MHST's contract has been extended until 2024. The commissioner spoke highly of the team and their 'can do' attitude and the continuing praise and positive feedback about the service she receives from professionals and wider stakeholders
---
---
Compass Be out and about for World Mental Health Day
---
Compass Go marks World Mental Health Day with new podcast series
Thompson treats his colleagues during busy Black History Month
Be Team Leader, Michelle Eyre, said: "Through the month of October, Thompson has been raising awareness for BHM working with CYP in educational settings which included delivering workshops and awareness stalls."
---
---
We asked three colleagues at Compass Be how they like their jobs…
https://www.youtube.com/embed/-fGv6Jj8yck?feature=oembedJade – Supervising Practitioner, South Area, Compass Be
https://www.youtube.com/embed/M8MYwTWaBq0?feature=oembedMichelle – Team Leader, Compass Be
https://www.youtube.com/embed/7xbLA_2KWfA?feature=oembedLauren – Trainee, Compass Be
---
---
---
---
---
Compass Bloom is the new brand for our MHST services in West and Central Lancashire – thanks to trainee Romy!
Lisa Gale, Compass Assistant Director Operations (North), said: "Compass Bloom really hits the mark and it is even more special knowing that one of our own workers, Romy Kale, was inspired so much by our ethos to come up with the name."
Now, read more…
---
---
New branded SPOC launches in Barnsley
---
Life's a beach for GO! team
The beach event at sunny Cleethorpes was created and organised by eleven team members at Compass GO…
The idea was for local families to be able to take some time out and come and join the team in a range of free and enjoyable activities which included shell painting, making nature collages, making friendship bracelets, playing rounders, building sandcastles and egg and spoon racing.
Read more below…
---
And our GO! getters were also out and about in Immingham…
---
Holistic approach for families invited to drop in sessions in Grimsby
"The drop-in is a safe place to come along for a natter, relax and ask any questions that you may have as well as finding out more about any additional support that our service can offer parents/carers"
Read more here…
---
Real time results for families as our staff deliver Triple P courses in Barnsley
Read all about it! How our workers in Barnsley created that inter-generational change we strive for, delivering a new dimension to our offer.
Thompson tells of tears and triumphs as we give Positive Parenting tips in school sessions in Barnsley.
---
Let's GO! Lincolnshire staff give up their Saturday to attend Pride event.
Workers wanted to reach out to young people who may be attending the Cleethorpes and Grimsby Pride event. Little, unspoken interactions made it all worthwhile.
---
NEL's Sam Walters on his LGBTQIA+ specialist theme role
---
Heartrending effects of cyberbullying being tackled by Kirsty in Barnsley
Kirsty Taylor, Healthy Peer Relationship Practitioner in Barnsley MHST, devised, developed and is now delivering an hour long workshop to schools in Barnsley to help young children deal with life online. Here, she tells us about the project. and below the video, you can read how she went about it.
https://www.youtube.com/embed/WW-ZKWQXuWA?feature=oembedKirsty explains how she acted upon what the children were telling her.
"There have been many challenges discussed during sessions – some young people reported that social media effects their sleep, appetite, confidence and sometimes pressures them to be a different person."Kirsty Taylor
---
SilverCloud online CBT package being prepared for Harrow
The SilverCloud package is to be launched this financial year in Harrow. Meanwhile, Barnsley and Compass GO MHSTs already use the package.
---
Lancashire team bring in experts with lived experience to speak about autism
---
Getting children to talk about mental health
---
Faazia and her Lancashire colleagues are loving their university days
Read how they're being "captivated" by powerful, insightful and emotive lectures at Edge Hill.
---
---
---
---
---
---
---
---
---
---
---
---
---
---