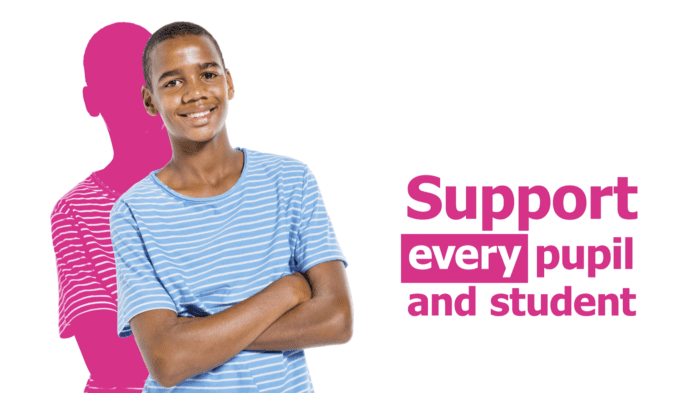 A practical introduction to implementing a whole school approach (WSA)
Who's it for Learning outcomes Course length Testimonials
Compass's course has been assured for Department for Education grant-funded senior mental health lead training and is included in an online register on the DfE website.
'A practical introduction to implementing a whole school approach' supports new and existing designated senior mental health leads in schools and colleges to implement, establish and sustain a whole school approach, bring busy colleagues on board and maintain momentum.
Information on how to apply, and conditions, for the £1200 DfE grant can be found here.
Our course is:
Assured for DfE grant funding, to cover the entire £795* course cost and contribute to teaching cover
Delivered online or face to face* to small cohorts of 4-8 delegates
Designed for beginners – senior mental health leads who are new to the role or have not previously completed senior mental health leadership training
Completed within six weeks – consisting of 2 six-hour days, 1 hour consultation and self-paced action planning
Practical – drawing on our experience of what works, through delivering services that support the development of whole school approaches and provide interventions to pupils with low to moderate mental health needs.
* We can deliver face to face training across most of England, trainer travel expenses will be added to the course cost. Please email positiveeffect@compass-uk.org for face to face training enquires.
Practical action planning and ongoing support for each delegate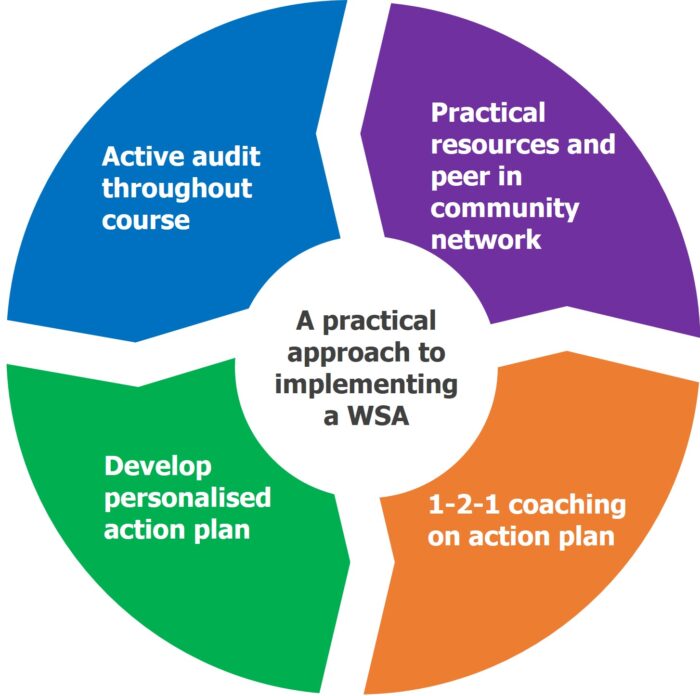 In assuring our course, the reviewers drew attention to our commitment to providing learning in small groups – four to eight people per course – to facilitate shared learning and experience and develop a peer network.
This also means our experienced course leaders can coach delegates to carry out a review and assessment during the training, using a simple audit tool, to determine what their setting already does that is aligned to each of Public Health England's Eight Principles.
We show you how to apply each of PHE's Eight Principles in your school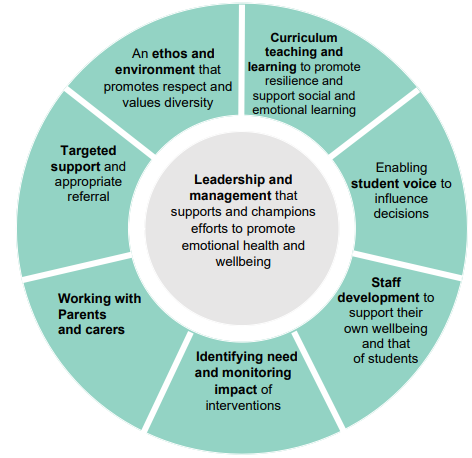 We then utilise best practice from 'Promoting children and young people's emotional health and wellbeing' to set out the key actions education establishments can take to embed and promote emotional health and wellbeing.
All those trained will also be invited to participate in quarterly community in practice peer webinars, to enable Senior Leads to continually improve and embed their WSA.
Straightforward and pragmatic
Our practical course takes the 'need to know' theory and technical aspects of mental health and makes it relevant and accessible to education professionals so it is easy to implement.
We use our experience in providing children and young people's mental mental health and wellbeing services and training, to deliver practical, real world help.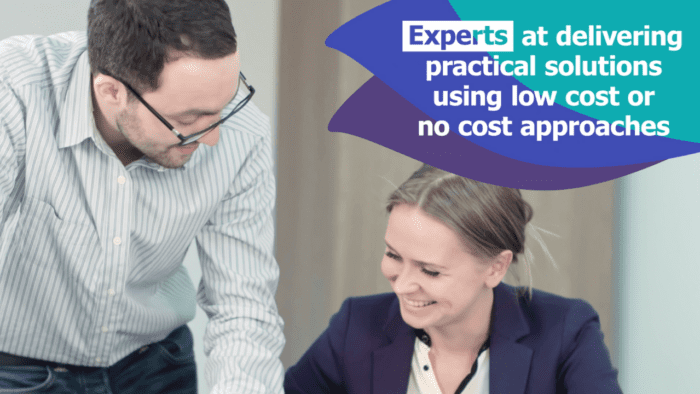 We deliver evidence-based techniques and tools so Senior Leads come away with a clear idea of how they can approach change among colleagues and across the whole school.
In this course, we use tried and tested methods to address day-to-day issues in schools and colleges that impact:
Pupil/student attainment, attendance and behaviour
Staff wellbeing and resilience
Identification of need
School community cohesion
Delegates will have access to our Resilience Toolkit, filled with evidence based resources, developed by health and wellbeing professionals, that can be used during mild to moderate mental health interventions.
Course overview
Cost
£795 (+ Travel Expenses for face to face delivery)
Who the course is for
Beginners
Newly appointed Senior Leads or those with no previous mental health leadership training
Senior Leads in primary schools, secondary schools, colleges (sixth form and further education colleges), middle deemed primary and middle deemed secondary schools, Special School, Alternative Provision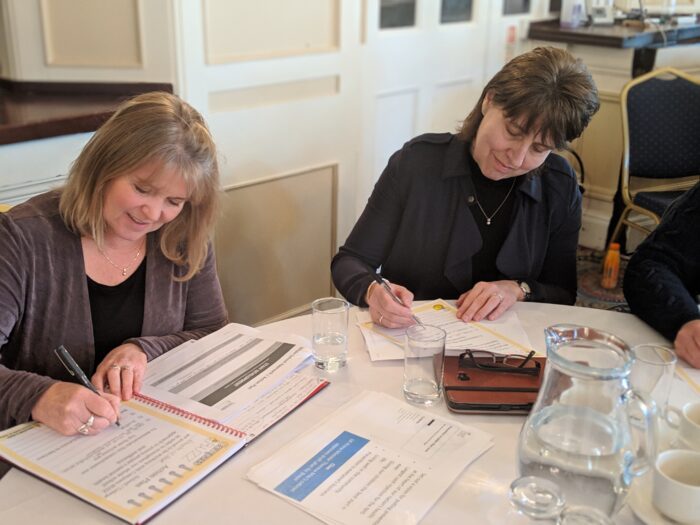 Your learning outcomes
Awareness of the key roles and responsibilities needed within your educational environment
Understanding of how to embed approaches that identify and respond to pupil's / student's mental health
Knowledge of the key actions needed to embed emotional health and wellbeing change
Knowledge of how to create healthy environments
Awareness of the solutions to barriers within the workforce
Understanding of mental health policy and procedure
Read our transformation statement to learn more about what problems will be solved, how leaders will be better able to solve these and what impact will arise following the course.
Course length
13 hours (2 days + 1 hour consultation)
Completed over six weeks
Ongoing community in practice peer networking webinars
Our training style
Online or face to face delivery
Interactive discussion
Group activity
Review and reflection
Action planning
Our credentials
The course is founded in our prevention and early intervention approach. It builds on our many years' experience of supporting schools and colleges to improve their pupil, student and staff mental health and wellbeing through low cost or no cost approaches.
Compass delivers a number of services, such as Compass GO…, Barnsley MHSTs and Compass Phoenix, that both support the development of whole school approaches and provide interventions to pupils with low to moderate mental health needs.
For example, our charity has experience of implementing the whole school approach across nearly 400 schools in North Yorkshire over the past four years, with commissioners expressing that our experienced and dedicated workers has successfully implemented "cultural shift".
Compass is in the vanguard of the Government's Mental Health Support Teams initiative, with MHSTs in Barnsley, North East Lincolnshire and West & Central Lancashire.
We are experienced in training, through many of our services and successfully running our training and consultancy arm, Positive Effect.
"We wanted something that was innovative and responsive to local needs and we found that in the third sector. Compass has demonstrated that in a number of ways over the years."

Lorna Galdas, Senior Commissioning Officer at NHS North Yorkshire CCG
Read testimonials from senior school leaders for our whole school approach training
In North Yorkshire, Compass ran senior training for 295 delegates from 255 schools. The delegates included senior leaders from schools and partners including NYSCB, Inclusive Education, Virtual Schools, Educational Psychologists and NYCC Children & Families Service.
Thank you for inviting us yesterday. It was a very useful event to attend. Claire and I are now on a mission to improve our school's attitude to wellbeing – both for staff and students. We are going to start with a presentation at the SMT meeting.

HE, SENCO, Fyling Hall School
I have already presented to staff about our actions from the meeting and starting to ramp up some of the work we are doing.

MA Assistant Head Teacher, Wensleydale School and Sixth Form
I would like to thank your team for an excellent workshop! Informative and very productive.

SH, Headteacher, Cliffe VC Primary School
Make an enquiry
T: 01904 636 374