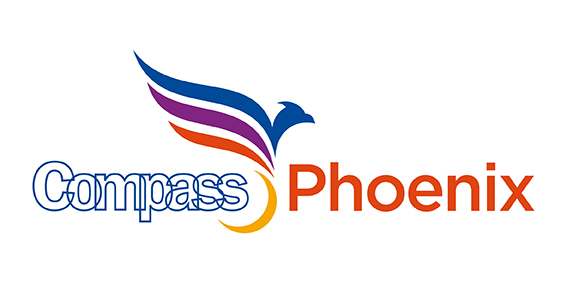 Supporting Children & Young People in North Yorkshire
Compass Phoenix is a free, confidential health and wellbeing service for children and young people between the ages of 5-19.
It's also available for young people with Special Educational Needs and Disabilities (SEND) and an Education Health and Care Plan (EHCP) up to the age of 25.
The Compass Phoenix service is for those children and young people who may benefit from receiving early help and prevention of harm work in relation to mild to moderate emotional wellbeing and mental health issues.
The aim of the service is to improve outcomes for children and young people's mental health by strengthening the range of mental health support available to children and young people.
We offer:
One-to-one and group work support and interventions for children and young people aged 9-19, with mild to moderate mental health issues.
Support to schools to develop a whole school approach towards emotional and mental well-being through the delivery of training.
Professional Consultation to school and college staff, providing advice and guidance on emotional wellbeing and mental health to help make sure that children and young people get the right support at the right time in the right place.
Our BUZZ US text messaging service.
Our dedicated team help young people to make sustainable lifestyle changes in order to improve their long-term health, resilience and emotional wellbeing, reduce risk to themselves and others and equip them to reach their potential.
We also work with school and college staff to build their confidence and knowledge of approaches to support the emotional and mental health needs of the children and young people.
How the service can help you
If you are starting to struggle with your mental health, then our caring and dedicated team can meet you face-to-face or we can support you on the phone or by an online video call.
We use 'talking therapies' (sometimes called 'therapeutic interventions') designed to help you cope and to understand your particular issues. We can also suggest useful ways family members and others close to you might be able to support you at home – but this is something we would talk to you about first.
How you can get support if you're a child or young person
You can speak to someone from Compass Phoenix by ringing us on 01904 661916 or on our Freephone number 0800 008 7452.
If you are a young person wanting to make a self-referral, please download our Request for Support form, then email the completed form to phoenix@compass-uk.org
Learn about our BUZZ US text messaging service.
Referrals from parents or carers
We operate an open referral system which means that as well as taking self-referrals we also take referrals from parents and carers. Download our Request for Support form then email the completed form to phoenix@compass-uk.org
Professional referrals
Professionals are also welcome to make referral but we ask them to complete a referral form. If you would like to have a chat first please call 01904 661916 to talk over their concerns before completing a referral form. Download our referral form.
If you would like to request a call back, please complete our Call Back Request
How to access Professional Consultations
Professional Consultation appointment are arranged for school staff to anonymously discuss a young person's mild to moderate mental health concern and receive timely advice, guidance, support, resources and signposting.
This enables school staff to deliver preventative, targeted interventions with the young person / group of young people or to be given the appropriate advice to access other specialised support.
This process provides schools with:
• Timely support and advice
• High quality interventions
• Support children/young people need, when they need it
A more creative approach will be used for primary aged children focusing on character building and self esteem with a focus on motivational skills, self awareness and managing relationships for secondary aged young people.
BUZZ US Text Message Service
Compass offers a confidential text messaging service to young people aged 11-18 across North Yorkshire.
Text 07520 631168 for confidential advice, support and signposting from a wellbeing worker within one working day via text.
When you text BUZZ US, you'll get a message back letting you know if we're open or closed. It'll also tell you what you can do if we are not open and you need help in the meantime.
This might include contacting your doctor, visiting an NHS walk-in centre or calling NHS 111. You can also look up your local child and adolescent mental health service (CAMHS) crisis number. Also remember that if it is an emergency dial 999 or visit A&E.
Text us!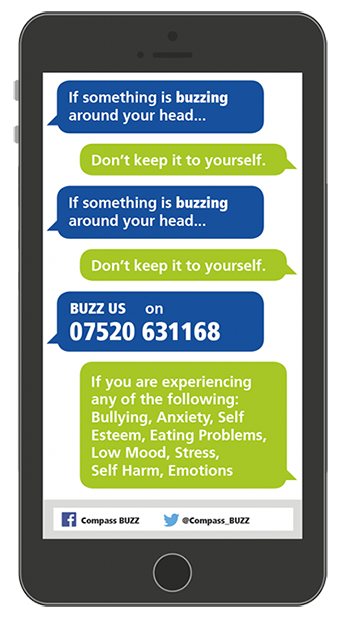 Young people can text BUZZ US about any mental health or wellbeing worries. Such as low mood, stress, eating problem, self harm, anxiety or self esteem.
We will get back to you within a day during the week.
If that feels like too long and you are in need of urgent help or you feel in crisis, please contact the help suggested above and here.
Real people, real help
Once the qualified wellbeing worker – it's a real person! – has introduced themselves, they will ask you questions around your problem to make sure that they are offering you the right support, advice or signposting to other people who can help you.
After you have received the help you need, we'll ask for your feedback. But you can text us again if you need us again!
The service is open Monday – Thursday 9am-5pm and Friday 9am-4.30pm (excluding Bank Holidays).
You can also stop receiving messages from BUZZ US at any stage by texting STOP to the number. We at Compass record and keep all messages they receive in our central files.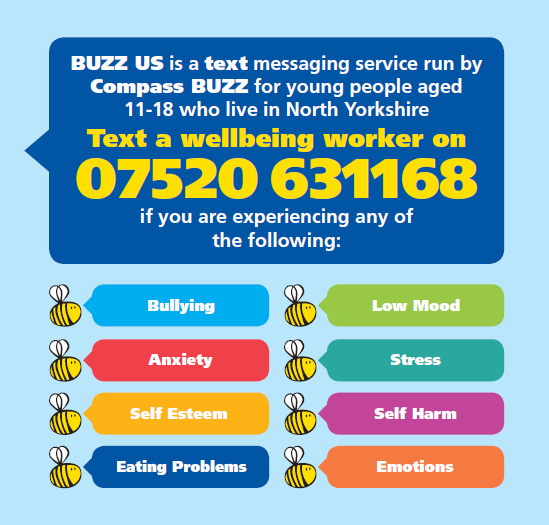 Please note this important information
We do not usually inform parents, teachers or anyone else if you contact BUZZ US. We might inform someone if we were concerned about your safety, but we would usually speak to you first.
Your messages are stored and can be seen by other Compass staff who follow the same confidentiality rules. We aim to reply to you within one working day and you should get an immediate bounce-back to confirm we've received your text.
Texts will not be seen outside of normal working hours. If you need help before you hear back from us, contact your doctor, visit a NHS walk-in centre or call NHS 111. If it is an emergency, dial 999 or visit A&E. Our text number does not receive voice calls or MMS picture messages.
We support messaging from UK mobile numbers only (which does not include messages sent from landlines, international mobile numbers and some 'number masking' mobile apps).
Prevent BUZZ US sending messages to you by texting STOP to our number. Please respect your school's mobile phone policy. Messages are charged at your usual rates.
Opening times
Most of the appointments we offer tend to be between 9:00am and 5:00pm Monday to Thursday, and 9:00am and 4:30pm Fridays – but if these times don't suit you, just let us know and we'll see if we can arrange something at a time that's more convenient to you. We are not open on weekends or bank holidays.
If you require support out of these hours and feel you are in danger or at risk of harm, you can contact the CAMHS Crisis service on the following numbers:
If you live in Scarborough, Whitby, Ryedale, York, Selby, Harrogate, Ripon, Hambleton and Richmondshire call CAMHS Crisis on 0800 051 6171 which is available 24/7.
If you live in Craven call FIRST RESPONSE (CAMHS Crisis) on 01274 221181 which is available 24/7.
Or in an emergency dial 999
If you are looking for support with a substance misuse issue, please contact the Humankind charity on Telephone: 01723 330730 (option 2) or Freephone: 08000 14 14 80 (option 2)
Meet the team
Hi, I'm Lisa, I have been a Compass service manager since 2013 and am lucky to have a job that enables me to work with such great colleagues who are committed to offering children, young people, families and professionals across North Yorkshire the best support they possibly can. The teams I work with are dedicated to helping children and young people make sustainable lifestyle changes that will improve their long-term health, resilience and emotional wellbeing in order to help them reach their potential.
Hi, I'm Lotty, I am the Team Leader (clinical). I qualified as a mental health nurse worked for Compass shortly after. I spent two years out of the service working in both the single point of access and specialist CAMHS services in Suffolk before returning to Compass. I am passionate about young people's mental health and about ensuring young people access the best support to meet their needs so that they are able to thrive in an emotionally healthy way. Alongside, and prior to my nursing career, I spent many years as a youth worker so enjoy the creative element to the support we offer but also like being able to support and influence mental health services for children and young people in North Yorkshire by amplifying young people's voices and advocating for those who may otherwise find it difficult to be heard. I hope that everyone who accesses mental health or emotional wellbeing services leaves feeling supported, listened to and positive for the future.
Hi I'm Rachael, I joined Compass in 2016. It is a great team and I love the diversity of the role dealing with professionals and young people. I am proud of the service Compass Phoenix provides which is having a positive impact on the mental health and wellbeing of young people across North Yorkshire.
Hi I'm Rob, I am based in the office carrying out the administrative duties to support the team. I am delighted to be part of the team, making a positive contribution to the lives of children and young people across the county.
Hi I'm Caroline, I have recently joined Compass as an Administrator and I am delighted to be part of a team that cares for the young people in our area.
Hi, I'm Nadine and before coming to Compass I worked in adult mental health and substance misuse. I thoroughly enjoy my role here and seeing the positive impact that our support and training has had on our North Yorkshire schools and children's wellbeing. This has been a great team to join and everyone is very committed and passionate about helping children receive the enjoyable childhood they deserve.
Hi, I'm Alice, I studied Religious Studies & Theology at university before supporting young people's learning and wellbeing in a vocational college. This, as well as my own life experiences, cemented my aspiration to work alongside vulnerable children and young people and I went on to complete a Masters Degree in Social Work in 2012. I worked with homeless young people and subsequently as a Children and Families Social Worker for several years, protecting children and young people from harm, specialising in cases involving domestic abuse and child sexual exploitation and enabling looked after children to progress through to permanence. I am hugely passionate about supporting children, young people and school staff, promoting positive mental health and challenging stigma; I'm delighted to be part of the Compass Phoenix team.
Hi I'm Pip and I am so passionate about my role as a Training & Consultation Worker for Compass Phoenix. I feel it is such a privilege to work among such a skilled team, and also to be making such a positive impact for the future of our children and young peoples mental health.
Hi, I'm Melanie, the Senior Practitioner for Harrogate, Skipton and Selby. I am enthusiastic and passionate about working with young people and in providing support and person centred care, which values the contribution every young person can make, enabling them to improve their health and wellbeing and increase resilience.
Hi, my name is Katie and I am a Emotional Wellbeing Practitioner in the Harrogate, Ripon and rural areas. I have worked with children, young people and families for 11 years, also completing my degree in Children, Young People and Families alongside my work. I am very passionate about working with young people in supporting them to make positive changes to their emotional health, physical health and in other areas of their lives.
"Hi, I'm Jonny and I am a Emotional Wellbeing Practitioner for Selby. I am passionate about substance misuse, mental and sexual health. I come from a Youth and Community Development background, were I've worked collaboratively with young people in schools, youth clubs and the wider community."
Hi, I'm Hannah, Emotional Wellbeing Practitioner. I graduated as a mature student in 2020 with a BA (Hons) in Children, Young People and Families. Working with young people has always been a passion of mine and I led various youth clubs and have volunteered with the City of York Council since 2016, supporting young people within the care system, with those at risk of exploitation and as an appropriate adult. I feel incredibly lucky to work with a great organisation that has such a positive influence on young people's lives and that allows me to contribute to the empowerment of young people to help them realise and fulfil their potential.
Hi I'm Ashleigh, this is one of the most rewarding jobs I could do, not only do I work with an amazing team, I am also incredibly valued by Compass. I could not be more passionate about protecting, promoting and improving the mental health and wellbeing of our children and young people. I believe that we need to eliminate the stigma and help each other to move towards a brighter future.
Hi, I'm Jess, the Emotional Wellbeing Practitioner for Hambleton and Richmondshire. I joined the Compass in May 2019, coming from a background of youth work, specialising in supporting young people with substance misuse issues. I am passionate about promoting good mental health and well-being and enjoy working with young people, empowering them to make positive changes to their lives.
Hello, I am Rory, one of the three Emotional Wellbeing Practitioners for Richmondshire and Hambleton. I have worked in Children and Young Peoples Mental health since 2010. I believe strongly in tackling the stigma of mental in our young people, and equally believe that getting back into nature is a positive first step in helping ourselves.
Hi, I'm Sarah, a Emotional Wellbeing Practitioner covering Scarborough, Whitby and Ryedale. I have 20 years experience working with Young People in a variety of settings including Social Emotional and Mental Health, Specific Learning Difficulties, Communication and Interaction and ASD. I am passionate about supporting children and young people with their emotional health and wellbeing.
Hi, my name is Rob and I am a Emotional Wellbeing Practitioner. My previous experience working with young people and their families includes Child Sexual Exploitation outreach services and working as a social worker for Children and Family Services. I am thrilled to be part of such a passionate, experienced and dedicated team and relish the opportunity to support young people in Scarborough/Whitby/Ryedale in relation to substance misuse, mental health and emotional wellbeing, and sexual health.