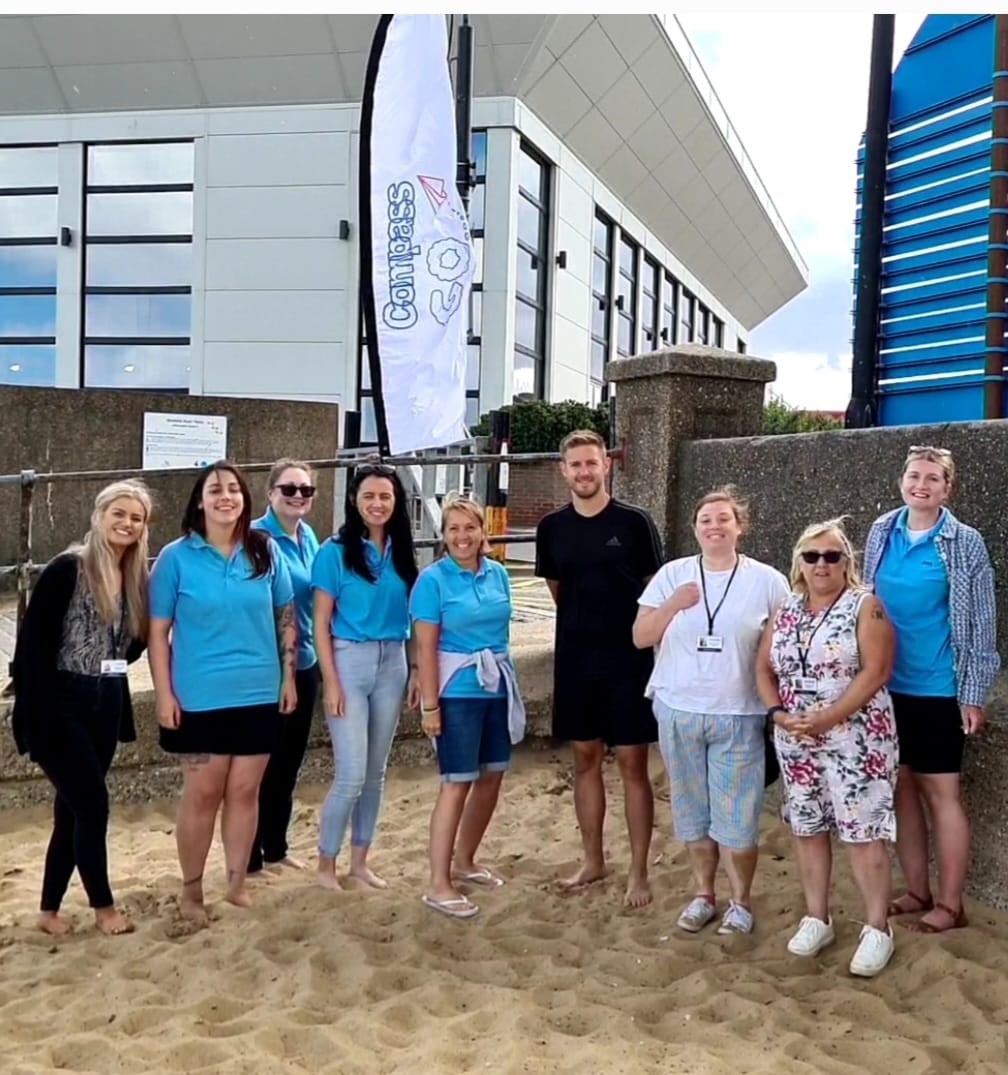 Published on: August 23, 2022
The sun shone brightly for 150 children, young people and their parents/carers who attended the 'Cleethorpes Summer Beach Meet' which took place on Friday 5th August from 10pm – 3pm, at the popular strand of Cleethorpes beach next to Cleethorpes Leisure Centre.
The event was created and organised by 11 team members at Compass GO… for local families to be able to take some time out and come and join the team in a range of free and enjoyable activities which included shell painting, making nature collages, making friendship bracelets, playing rounders, building sandcastles and egg and spoon racing.
The Compass GO… team consisted of Leanne Cook, Vicky Triffitt, Hannah Bishop, Daisy Henry, Leanne Turner, Yvonne Ford, James Cochrane, Jamee-Leigh Benson, Amy Deightont, Niki sullivan and Jess Raworth
Leanne Cook, one of the main event organisers and team Leader at Compass GO… said, "It was such a lovely day watching the children and young people engage in all of the activities, whilst their parents/caregivers were able to relax on the beach and talk amongst each other."
The Cleethorpes wellbeing beach day was important to the service as we as a team took time out of our very busy diaries to work together on one project. The team were able to meet more children from the local community and promote wellbeing.
Leanne went on to say "We spent the day promoting wellbeing and including everyone who attended. A number of children and young people who attended were asking questions about mental health and how they could manage their feelings, and where they can get help if needed.
"It is important for the local community to be aware of who we are and what we can do to support children and young people. A number of families were keen to take our leaflets so that they could make contact in the future."
Compass GO… team photo from left to right: Daisy (EDUCATION MENTAL HEALTH PRACTITIONER), Leanne (TEAM LEADER), Hannah (TEAM LEADER), Vicky (TEAM LEADER), Niki (SUPERVISING PRACTITIONER), James (YOUTH JUSTICE HEALTH AND WELLBEING WORKER), Leanne (ASSISTANT PSYCHOLOGIST), Yvonne (FAMILY PRACTITIONER), Jess (EDUCATION MENTAL HEALTH PRACTITIONER)