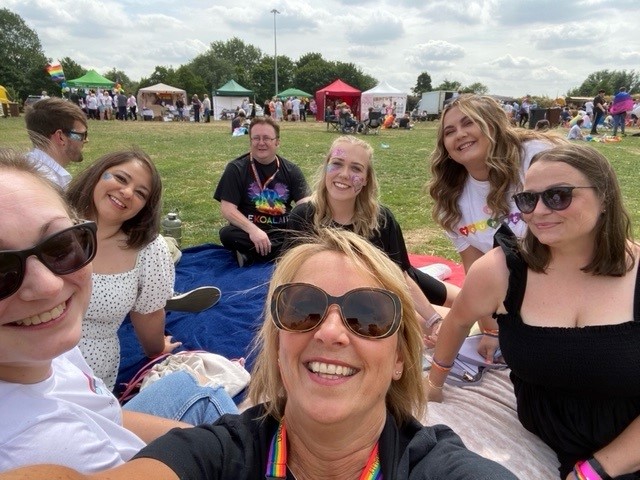 Published on: July 29, 2022
Compass GO! staff happily gave up their Saturday recently so they could show their support for young people attending the Cleethorpes and Grimsby Pride event.
The service's LBTQIA+ Specialist Theme Lead Sam Walters said: "We thought it was important to make this effort and we're really glad we did."
As well as Sam, his colleagues, Niki Sullivan, Rosa Towner, Amy Deighton, Hannah Bishop, Jamee-Leigh Benson, Andrea Paxton , Lauren Snell and Shaun Walton were all present.
Living our Values
Sam said the group's attendance at the event showed they were living the Compass values of valuing every individual and being committed.
He said: "By attending the Pride event, I feel we excelled in valuing every Individual, by respecting their needs, demonstrating support and engaging with the whole community. It also ensured staff had the chance to be upskilled and understand the additional challenges that the community face, and learn more about the importance of Pride events. By attending Pride, we demonstrated our reliability and commitment to supporting the community, and standing with them through difficult periods."
Watch Sam's interview here.
Interactions
Sam said: "The most important thing to come out of the event for me personally was the really small interactions that we had with different people who were there."
He explained: "There were a few times when young people would recognise a specific member of staff and smile at them. It happened to me.
"It was just that small acknowledgement that they understood that the team were there in support.
"We know for a fact that young people talk to each other so even if we only made eye contact and smiled with a handful, we know that they will go away and talk to their friends.
And dedicated Sam concluded: " They will talk about how Compass GO! were there. Word will just start to spread. The young people will feel like they can be accepted by the service and come to us for support if they need it.
"They will feel able to ask for help and sit there in front of a practitioner and say this is me and this is what I stand for."