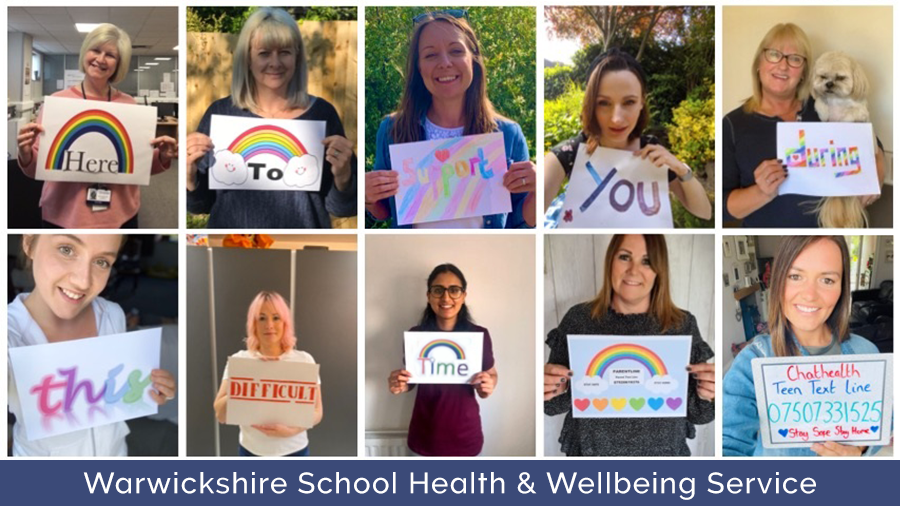 A school nursing service for the delivery of the Healthy Child Programme 5-19, led by school nurses for the promotion, prevention and protection of children and young people's health and wellbeing. Our service is available to all Warwickshire school aged children and young people from 5-19 years old (up to 25 years old for people with special educational needs).
The service follows Warwickshire Safeguarding Children's Board policies and procedures and forms part of multi-agency services for children, young people and families where there are child protection or safeguarding concerns.
Our caring and friendly school health and wellbeing team are available at a time that suits you and at a place where you feel comfortable.
---
Coronavirus (COVID-19) service update
In line with government guidance and the lifting of some COVID-19 restrictions, we are pleased to say we are now offering a blended approach to completing meetings, interventions, training and workshops. Some activities will be held virtually and some will be provided face-to-face. Where a face-to-face intervention is required, we will utilise social distancing and ensure other protective measures are in place. You can find out more information for professionals here, with more information and resources for children, young people and families here.
If you are unsure if or how an appointment or meeting will take place, please call us on 03300 245 204.
We understand these unsettling times can have a negative impact on the health and wellbeing of children, young people and families. Our school nurse-led team is here to provide support and advice: please get in touch.
---
Read our latest newsletters
Download any of our service newsletters, which contain health and wellbeing advice, resources and activities for children, young people and parents/carers.
---
Read our service annual reports
These reports detail the support provided by WSHWBS over the last 5 years, and provide information about the health needs of Warwickshire children, young people and families.
---
How the service can help you
We provide health and wellbeing advice on a range of health topics, which we can share with you:
Individually, face to face or by phone
In group workshops
Via our confidential parent / carer text messaging service
Contact us if you need support as a child / young person with:
Healthy eating
Dental health
Friendships
Bullying
Anxieties about changing schools
Contact us if you need support as a parent / carer with:
Parenting
Behaviour
Fussy eating
Sleep
Continence
Referral onto additional services
Support for young people on topics such as:

Emotional wellbeing including stress and anxiety
Relationships
How you can access the service
If you feel that you, or someone you know, would benefit from our support or would like some more information about the service, you can get in touch anytime via:
Our confidential downloadable referral form
ChatHealth confidential text messaging for young people aged 11-19 years on 07507 331 525
Parentline confidential text messaging for parents / carers on 07520 619 376
Your local school nursing team
Meet the team
This is our countywide team, for local teams please use the 'find a school' search.
Help & support
For information about relevant health and wellbeing topics please expand the sections below.
Children
I am aged under 11 years
Young People
I am aged 11-19 years (up to 25 years old with special educational needs)
Parents / Carers
I am a parent / carer
Professionals
I am a professional