In January 2020 Compass was delighted to be awarded the contract to deliver the North East Lincolnshire Mental Health Support Teams (MHSTs)
This service is one of the national MHST in educational settings Trailblazer sites (wave 2 of 3) across England to increase the children and young people's mental health workforce and is a response to the Government's Future In Mind Green Paper recommendations. The Trailblazer and national programme is being overseen centrally by NHS England, Health Education England and the Department for Education.
Our service model ensures children and young people access the right early help, in the right setting; removing duplication and preventing CYP/families being 'bounced' in-between services. The model includes:
Delivering evidence based interventions for mild to moderate mental health and emotional wellbeing needs
Supporting designated senior MH lead in each school/education setting
Providing timely advice to school and college staff
Further information about this award is available via the North East Lincolnshire Council website: https://www.nelincs.gov.uk/mental-health-support-team-provider-announced/
Service implementation updates
Meeting and greeting our stakeholders
On 22nd January three members of the Compass team attended a 'meet and greet' session with around 60 invited North East Lincolnshire MHST stakeholders including education staff, school nurses and representatives from other mental health and wellbeing services.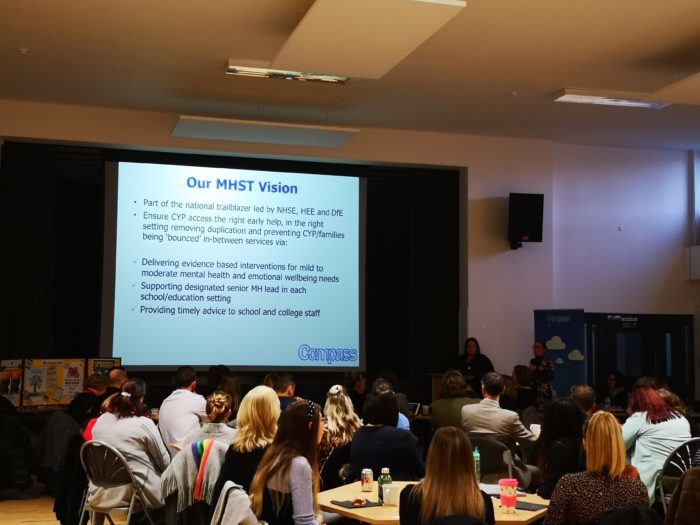 The aim was to introduce Compass, set out our MHST vision and how the new teams will support children, young people, families and professionals in a range of educational settings.
As part of the session we delivered a presentation about our North Yorkshire School Mental Health and Wellbeing Project (Compass BUZZ) and introduced some useful tools and ideas that have been successfully adopted in other Compass projects.
We also outlined the commitment sought from education providers across the region, in support of the project and set out the next steps.
This was a great initial opportunity to meet face to face and to explore any questions, and we see this as a positive start to an ongoing dialogue with our new partners in North East Lincolnshire.
We have received some positive feedback from attendees, who are excited about the pilot, and it has already prompted discussion locally; such as thinking about how practitioners will be co-located within education settings.
Welcome to Compass!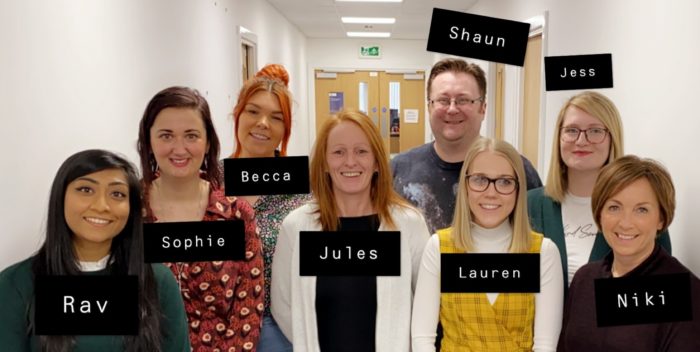 After their first week at university our new team of Educational Mental Health Practitioners had a chance to reflect, during a productive day together on 21 February at our Grimsby base in the Alexandra Dock Business Centre.
Our new colleagues learned a bit more about Compass and each other with a day that included fun team building games and activities.
I am so thrilled to be a part of this. I realise it will be hard work and there will be many challenges to overcome, but you made it clear that we are fully supported by Compass, working together throughout the learning journey.
I feel extremely motivated in return for the consideration Compass is giving to our wellbeing. I'm looking forward to meeting our future supervisors and getting stuck in!
I felt it was one of the nicest and most restorative induction / introductions to anything I have experienced. I walked away feeling I really was part of something special and not just feeling I had started a new job.
The team are continuing their course this week and will be coming together again this Friday to learn more about the role of the Mental Health Support Teams, nationally, locally and within Compass.
MH STarting up!
The first week of March was all about working together.
Our trainee Education Mental Health Practitioners were back from University for 3 days, so we had our first team meeting. We got straight to business and agreed some important matters not least a milk fund! It was also an opportunity for the practitioners to prepare and give presentations on key polices – we are now fully briefed on all things Compass.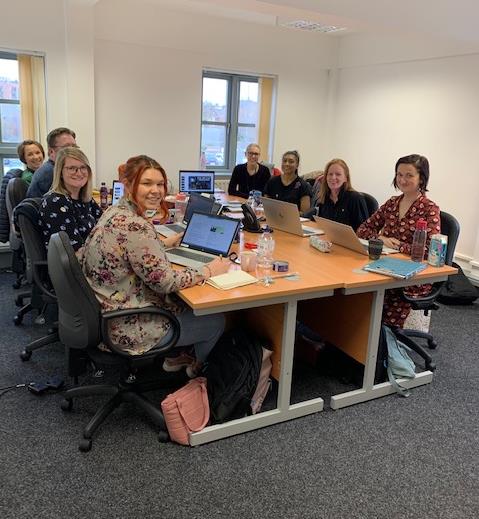 We have also been networking and developing local partnerships.
We were warmly welcomed to Franklin College, Grimsby where we talked with students and staff about how our MHST can integrate with existing services and deliver improved mental health support together. They gave us some positive ideas and suggestions to take forward.
We also spent time with Young Minds Matter with whom we have a joint commitment to improve the mental health and wellbeing of children and young people in North East Lincolnshire.
Their Head of Service shared some of the fantastic innovations already in place. It was then great to meet one of their peer support workers who described some of his work to engage young people in peer networks – there's a real focus on young people with lived experience shaping services. Finally a huge thanks to Tracey for sharing key information and offering support to our practitioners during induction and beyond.
Focus on suicide awareness and prevention
In mid-March the team spent some time focusing on suicide awareness and prevention.
Our Trainee Mental Health Practitioners completed #talksuicide training. They then attended an event in Grimsby Town Hall where Jo Kent, Humber, Coast and Vale Suicide Prevention Lead (@Jo Kent) spoke about suicide in the region. This was also an opportunity to plan how to work closely with Jo on suicide awareness and prevention in schools and colleges and with a new North East Lincolnshire service to help those bereaved by suicide, due to launch in May.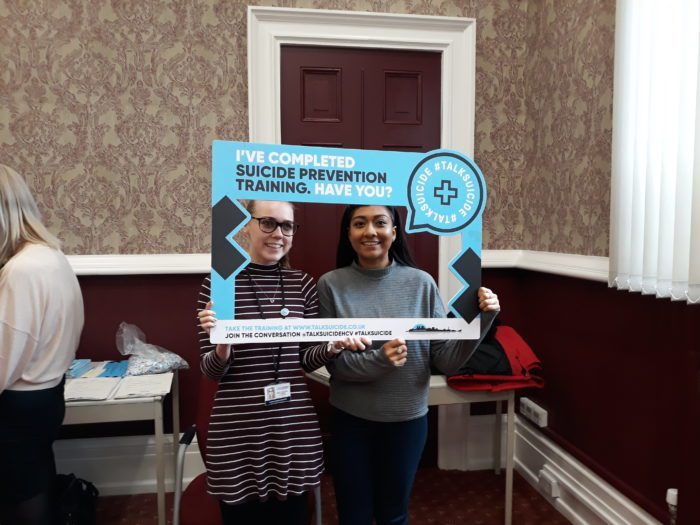 We continue to build networks locally with third sector, police and health care partners and our neighbourhood hubs, who have all made us very welcome as a new support for children and young people in North East Lincolnshire.
Please check out our vacancies page for available roles within this service: