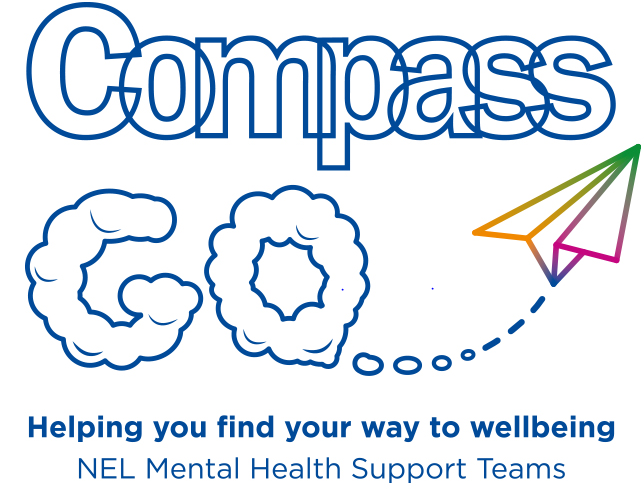 Compass GO.. (Mental Health Support Team) works with children, young people, families, schools and colleges in North East Lincolnshire. We provide support, help and advice for pupils, students and schools for issues related to mental health and wellbeing.
Our work with schools and colleges includes providing advice, information and support to staff in promoting mental health and wellbeing. We also plan mental health awareness and promotion activities and events for students, including group work, assemblies and campaigns. For a full list of the schools and colleges we work directly with click here. We also work with children and young people in other settings, for example those who are educated at home or excluded from school.
We are a small team of Education Mental Health Practitioners and Supervising Practitioners from a range of health and education backgrounds who have undertaken specialist training. We are here to support young people aged 5 to 18 (or up to 25 years old if you have special educational needs or disabilities) to lead happier, mentally healthier lives.
How the service can help you
Our service is free and confidential and support is voluntary – we are here to help.
Our team can provide support face to face, by phone or video if you need help with managing your mental health or emotional wellbeing. So for example, you could come to us for help:
Because you feel anxious about school, exams or something that is happening at home or with friends.
Because you are experiencing bullying and you need help to deal with the way this is affecting you.
Because you feel depressed or low and you need help to understand why this is happening and what you can do to cope with these feelings until they go away.
Because you self-harm and you would like help to find different ways to cope with your emotions.
Because you have eating problems like binge eating or dieting that is getting in the way of you leading a full and healthy life.
Because sometimes your behaviour causes problems for you or other people and you would like help to manage this better.
Because you struggle to control feelings of anger and this hurts you or other people.
You can get in touch with us about any mental health concern you have and we will either agree a plan with you or support you to get the right help at the right time.
The support we offer usually involves meeting face to face or talking on the phone or via video; we use talking therapies designed to help you cope with and understand your issues in a way that is as unique as you are. We may also suggest useful things you and those close to you, such as family and teachers, can do to support you at home or in school, but this is something we would talk to you about first.
How you can access the service
You can speak to someone from Compass GO… by ringing us on 01472 494250 we are here Monday – Thursday 9am to 5pm and Friday 9am to 4.30pm. Because our work is planned around schools and colleges we don't work on weekends and bank holidays, but we are still here during school holidays.
If you or someone who is concerned about your mental health or emotional wellbeing contacts us we will ask a few questions, talk about the things which are worrying you and agree a plan or support you to get the help you need.
We usually offer appointments between 9am and 4.00pm Monday to Friday but if these times don't suit you, we will arrange something at a time that does – just let us know.
If you need urgent help because you are at risk of harm to yourself or someone else because of your mental health you can contact Young Minds Matter 24 hours a day 7 days a week on 01472 256256 option 3 or in an emergency call 999.
For service news visit:
Meet the team
Hi, I am Sophie! I absolutely love helping children and young people. I previously worked as a primary school teacher and later, supported children with autism and physical disabilities in an outreach role. I am incredibly passionate about supporting children and young people with their mental wellbeing and am looking forward to completing my training to enable me to do this. Outside of work, I love to travel, cook, be outdoors and spend time with my cat Lavender!
Hi, I am Becca! I have always had a passion for helping others to be able to have a positive impact on one life means the world. Working with children and young people is a gift, as I feel they represent pure joy and hope for the future.
Prior to this role, I worked within the health, wellbeing and fitness industry with adults, families, children and young people. I am passionate about mental health and wellbeing, so I am very excited to be part of Compass.
Outside work I love spending time with my family and friends, reading, listening to music, cooking, travelling around the world and being outdoors with my Boxer dog, Harry. I also love exercising, lifting weights, yoga, dancing and meditation.
Hi, I'm Jules. I am passionate about equality and believe everyone should have access to the right mental health support when they need it and that is why I chose to relocate from Blackpool for this amazing opportunity.
I have a Foundation Degree in 'Working With Young People' topped up with a BA Hons in 'Family Support and Wellbeing' along with several years' experience working with a diverse range of children and young people in both educational and social care settings.
I am very much looking forward to the challenge ahead and hope that my knowledge and skills will benefit the children and young people of North East Lincolnshire.
My other passions include quality family time with my girls and grandchildren, long walks with my dog, music, festivals and being creative with paint on canvas.
Hey, I'm Rav! I have a background in psychology and experience working with 0-19 year olds. I have an immense passion for ensuring mental health support is accessible to all. I enjoy going to the gym, experimenting with new recipes and spending time with friends, family and nature. I spent five years working at an indoor play and farm park so of course I love animals – my favourite animals are giraffes and red pandas!
Hi, my name is Niki! I take great delight in working with children and young people, helping them overcome challenges or difficulties. I have previously worked as a Safeguarding Officer, Head of House, and Pastoral Officer Counsellor. I am looking forward gaining the qualifications; this is my personal goal for this year. When I am not at work, I enjoy walking my Boxer dog, Darcey, I love to travel to interesting places and discover fresh food ideas.
Hey I'm Jess! I am very proud to have been given the opportunity to work for Compass to support children and young people who need a voice that is heard. I am passionate about mental health, individual voice and inclusion for all; I believe no-one should be left behind. I have a degree in education and special educational needs and inclusion. I have worked as a Playworker with children and young people with additional needs, following this I completed my teacher training and taught in primary schools. I love the outdoors, walking and exercising, travelling and spending time with family and friends.
Hi my name is Shaun! I have always had an interest in mental health and in empowering people to help them face challenges in their life. I have previously worked in behaviour management as a Health Trainer and as a Family Support Worker. My interests outside of work include socialising, reading, watching TV and gaming!
Hi, I'm Lauren! I am passionate about improving access to mental health support for children and young people and am very excited to be working with schools, colleges and other services to make this possible. I have a psychology and education background and have worked in a mainstream school as a Teaching Assistant and in the community as a Care Worker. Most recently I have worked within the NHS in adult mental health and autism. Outside of work, I enjoy running, arts and crafts and spending time with my family and cat.
Hi, my name is Jamee-Leigh. I completed a degree and Masters in Forensic Psychology at the University of Lincoln. During this time I volunteered for the Youth Offending Service and worked in drug and alcohol services. I went on to work in the Child Adolescent Mental Health Service (CAMHS). Whilst at CAMHS I went back to university to complete a low intensity course in CBT with children and young people. I find being able to help and support young people a very fulfilling career, which I love!
In my own time I like to travel and keep fit, you will usually find me either in a gym, out running, cycling or horse riding.
Hi, my name is Michelle and I have worked in mental health for 12 years. I have a degree in psychology and a post-graduate certificate as a children and young people's Wellbeing Practitioner.
I have worked in both adult's and children's services as an Assistant Psychologist and following my graduate from the CYPWP course l worked as a Mental Health and Emotional Wellbeing Practitioner within the Child and Adolescent Mental Health Service (CAMHS) delivering both low and higher intensity interventions. I have a real passion for improving children and young people's quality of life and reducing the lasting effects of mental health difficulties.
In my spare time l enjoy keeping fit and cooking. We have two lop-eared rabbits called Julian and Isobelle who keep me busy!!
Hi, I'm Hannah! I have been working in Administration for 6 and a half years and have always worked within Education, although previously Adult learning. I feel immensely proud to be able to be part of this incredible service which is going to make such a difference to so many people's lives. In my spare time I'm usually out walking my dogs (a beautiful border collie Lilly and a fluffy little Cockapoo Roxy), socialising with my friends and family and going on holiday as I love exploring new places.
Hi my name is Karen. I am Mum to 3 children and 8 cats, They all keep me pretty busy! We live by the sea and enjoy spending time on the beach or walking along the prom. I have been a mental health nurse for the last 20 years and have worked in a number of different teams including forensic, adults, older adults and children and young people. I have spent the last 3 years working in CAMHS and Healthy Minds and I have learned so much from this. I believe that if Children and Young People can learn effecting coping skills they will be better equipped as adults to deal with life's challenges.
My name is Claire, I am a registered learning disability and paediatric nurse, I also have a diploma child and adolescent mental health. I have worked as a nurse in the local area for over 20 years working in a variety of different places and roles. I have a keen interest in helping children and young people access the right support at the right time in the right place, to help promote their emotional well-being. When I am not at work, I like to go to music festivals, gigs and going travelling I also like to spend at time at home with my two dogs.