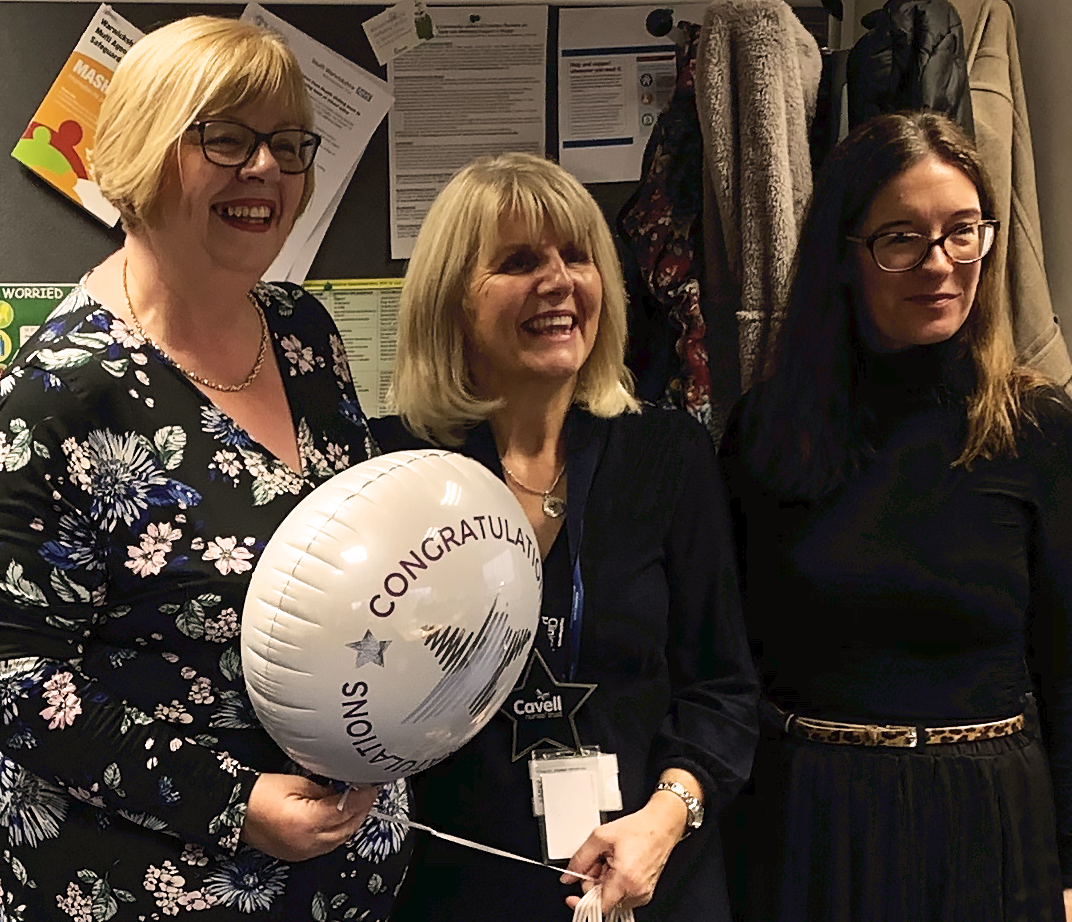 Published on: November 27, 2019
Maggie received the national award for her outstanding contributions to school nursing
The Compass team were delighted to present Assistant Director Maggie Clarke with a Cavell Star Award to celebrate her leading role in shaping school nursing services across the UK.
Cavell Star Awards are given to nurses, midwives, nursing associates and healthcare assistants who have shown an exceptional level of care. The nomination was made by Sharon White, CEO of SAPHNA: the School and Public Health Nursing Association.
Sharon and Maggie worked together to build the school nursing model for the Warwickshire Health and Wellbeing Service when Compass first took on the contract in November 2015. This included bringing the service in-line with modern practices and requirements; for example, bringing in an electronic version of the Health Needs Assessment, using technology to identify different triggers for various forms of support.
As with most organisational changes, this transition presented many challenges, but Sharon recalls how Maggie got colleagues and stakeholders on board and ensured the promised service was delivered:
"Maggie was brilliant at getting people to buy in — which was very difficult at the time. She's strong, articulate, and highly intelligent, but she's also empathetic and diplomatic, which always gets the best from people. Her compassionate leadership style is one of the key reasons I nominated her for this award, as it has really made a difference over the years."
Over the past four years, Maggie has continued to gather evidence to demonstrate the service's positive outcomes and make adaptations where required, which has been crucial to its success. Compass has recently been recommissioned once again and continues to deliver the Warwickshire Health and Wellbeing Service with Maggie's guidance.
Alongside her role at Compass, Maggie is also the Executive Lead Officer at SAPHNA, working with Sharon to make sure school nursing services across the UK meet the needs of children, young people and families today. She has been instrumental in initiatives such as ChatHealth, which enables young people to get confidential health advice via text message.
"She's loved and respected both locally and nationally,"said Sharon."She's a change agent – she's been key in the modernisation of school nursing." said Sharon. "She's a change agent – she's been key in the modernisation of school nursing."
Maggie said: "I'm overwhelmed to receive this award, particularly because of the background of the Cavell Star Awards which roots back to nurses who made phenomenal contributions in the early days of nursing that changed lives and brought us to where we are today.
I don't think I should get all the credit though – it only works because we all work together and put young people at the heart of everything we do and every decision we make. I feel really proud we are able to do that, so thank you."