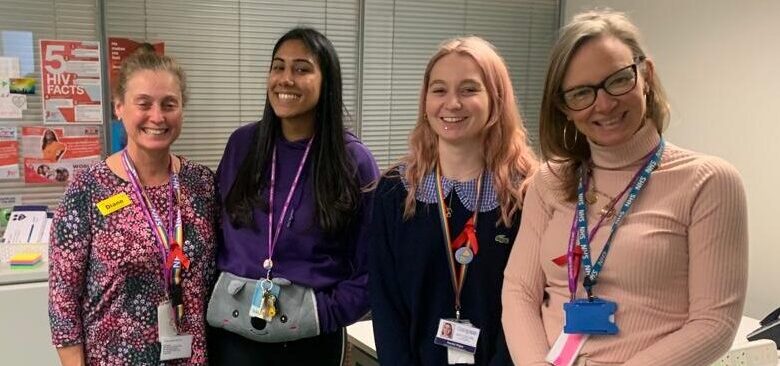 Published on: November 21, 2022
Our staff at Safe East, along with partner organisations, were nominated for a prestigious prize for their work in providing a ground-breaking health resource.
The innovative Health Spot service, offering easy to access support, inside a youth club in Tower Hamlets did not win at the London Youth Awards 2022 but the recognition of the work proved a huge boost.
Team Leader Vicky Jones, said: "It was amazing to get this kind of recognition.
"Health spot is a service for young people who are at most need of support in Tower Hamlets. It is made up of a GP for primary care, Docklands Outreach for mental health and Compass Safe East for substance misuse and sexual health and finally a Spotlight youth worker who supports the young people to access and book them into services.
She explained: "The project launched during the pandemic – it has really come to life this year. Especially since we moved Safe East into the Spotlight building.
"Young people know they can access a GP easily without having to go through a doctor's receptionist. And they can seek other professionals' support too. They appreciate that we're reaching out and they respect that. They can see that we're breaking down the barriers between different teams so we can break down the barriers to them getting the help they need."
Health Spot GP, Helen Jones said: "Health Spot delivers on the high level narrative of integrated working ensuring every contact counts by real joined up holistic care with minimal access barriers, completely informed by young people's voices and need."
Around five to seven young people attend appointments each Tuesday at Health Spot.
Vicky said: "We're trying to make it as natural as possible for them to pop in and see us and get advice, guidance and care that can often have a lasting, positive impact in their lives.
"This is the best way to work and find those young people who are vulnerable who may not otherwise get help."
Many young people missed appointments made for them in traditional referrals.
She said: "If you're 12, 13, 14, navigating the system is very difficult. You've not had that life experience, you might not have support from your parents. Your teachers might be too busy at school – this makes it easy for them.
"If we didn't have Health Spot and I had a young person that needed a GP, I've then got to support them to call the GP, get hold of a receptionist, wait for a call back and they may call back the parents – and that was always a nightmare.
"It's like jumping hurdles. The fact that we can just say to a young person, on a Tuesday we've got a GP at this centre, you can go there to be confidential – it can just be between you and the GP – it could be between me, you and the GP if you want my support. Or between you, the youth worker and the GP if you want."
And she added: "A young person just sees us all as one team. For me, that's the icing on the cake. I want young people to just know that they could turn up and all these people are going to help them."
Pictured: Health Spot team 2022 Diane Estwick, Safe East Nurse, Spotlight Youth Worker Treaser Jassel , Rachel Rigby Safe East Health & Wellbeing, Helen Jones GP.