Published on: July 25, 2022
Staff at Connect for Health school nursing service enjoyed a great away day out at Wolston Leisure and Community Centre in Coventry.
The full day out consisted of team building exercises, a hearty lunch and at one point turned into a surprise team send-off for Maggie Clarke, the service's well-loved and inspiring leader who is retiring.
Service Manager, Karen Cornick, said: "The aim of C4H's away day was for staff to have fun! We have so many new staff in the service that we wanted to give everyone the opportunity to come together – build friendships and to get to know each other.
Wellies wanged
"Working in teams, they played silly games and were surprisingly competitive! Tin can alley, egg and spoon, welly wanging, quoits and beat the goalie were just some of the games on offer in the afternoon. Beanbags, footballs and wellies were all sailing through the air – some of them even went in the right direction!
"It was lovely to see everyone looking relaxed and clearly having fun. A good time seemed to be had by all and laughter rang out across the field."
And Karen continued: "At the away day, C4H bade a fond farewell to Maggie. We took her a little by surprise as on the away day agenda we simply said that we were going to do a quiz. But instead of a quiz we did a presentation to thank Maggie for all of her hard work, both locally and nationally. Maggie was adorned with her own special retirement tiara and sash and Rachel presented Maggie with cards, flowers, gift voucher and a word cloud which included lots of School Nursing terms.
Retirement cake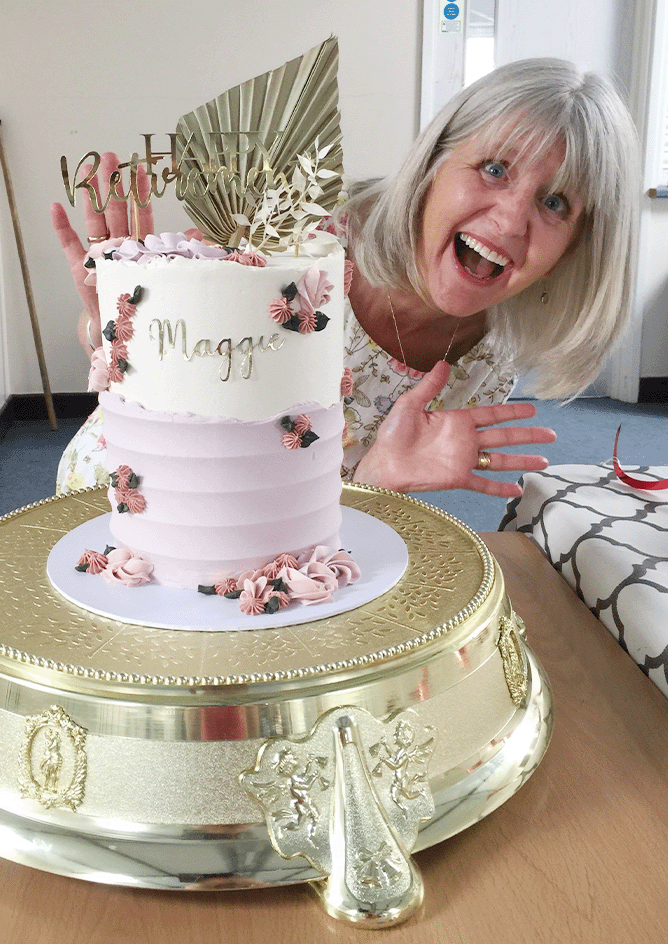 A thank you poem written by Helen was read to Maggie and a retirement cake made by Rosie was cut and enjoyed by all. Maggie shed many a tear and was very grateful for everyone's efforts."
Admin Team Leader Andi Leach said: "Maggie was completely surprised by it all so went absolutely to plan 😊 She is a good sport! "
And Helen Rogers, Team Leader and Mental Health and Wellbeing Lead, said of her poem: "This was just something that the leadership team discussed when we were planning Maggie's retirement and is something I felt I could offer to do.
Read Helen's poem from C4H to Maggie
On your retirement there are a few things we would like to share
About how you have made such a difference and to show you that we care.
A School nurse through and through and right up to the top
Always flying the flag for young people – something that we'll never stop.
Your vision and determination to bring about real change
Inspired so many, and without you will feel so strange.
SAPHNA, SMT and Compass as a whole
Have been touched by your Awesomeness right to the soul.
Phrases like "Isn't that amazing" and "Keep on Trucking"
You always have a smile even when there is no one looking
Working with so many and on a national level too
Inspiring policy and Tweeting was always your thing to do
Your enthusiasm and passion will be left in your legacy
So enjoy your retirement our one and only Maggie.
Helen said: "This was my first Away Day and I absolutely loved it.
Being all together was key. It was wonderful to have the opportunity to take part in team building activities that incorporated the celebration of what we had achieved as a whole service. We shared the vision of what we are setting out to achieve in the next academic year."
And she added: Maggie's retirement section was also so lovely and deserving."
What a great away day – staff reaction.
Christine Sleight, School Staff nurse.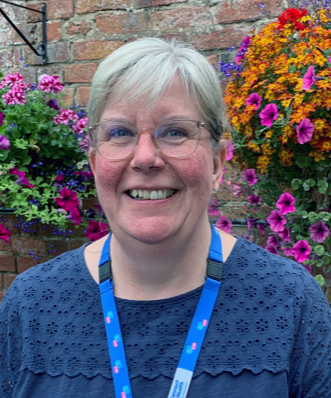 What to you was the most important part of the day?
Getting feedback from senior management team regarding the work that has been completed over the past year. Being thanked and appreciated for hard work over the year. All having the chance to get together.
What were your impressions of the day and how it worked for the team?
We were able to get to know and meet wider members of the Connect for Health Team from other bases, some of which were new to the service. It was a good team building exercise.
It was lovely to show our appreciation of Maggie and wish her well in her retirement.
Claire D'Angelo, administrator, C4H.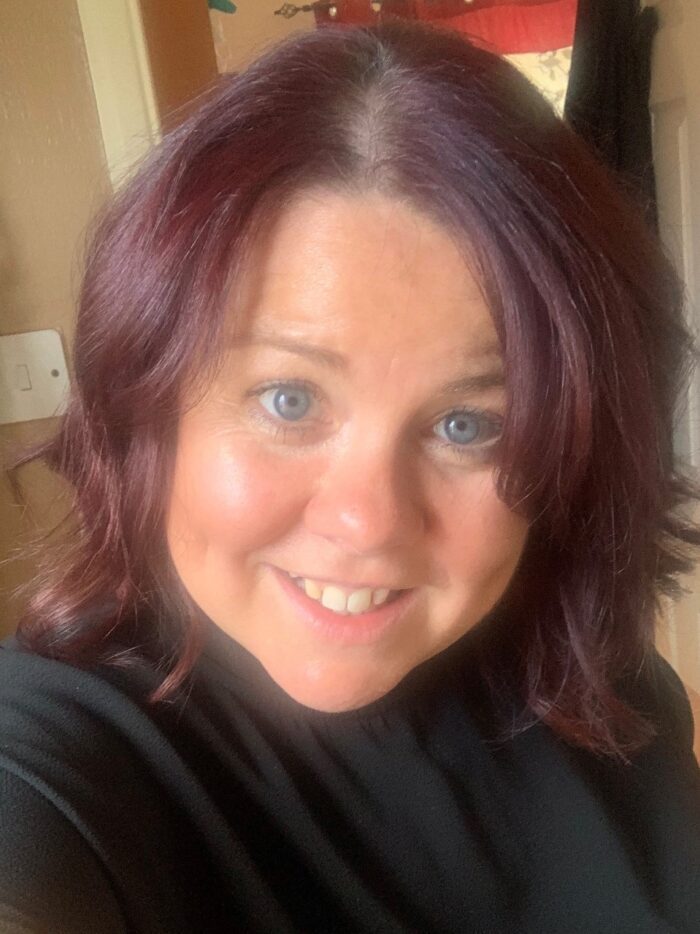 What to you was the most important part of the day?
Remembering why we do what we do, that we are one team working towards one goal – helping a child and family. No matter our role within the team we all have an important part to play.
What were your impressions of the day and how it worked for the team?
It was great to get away from our screens and have conversations with real people! Especially those who work in a different hub, and we never get to see. It was lovely to finally put a face to a name on an email. A perfect balance between business and fun throughout the day. Working in mixed teams for service-based quizzes, activities, and a fun 'back to school sports day' was an entertaining take on team building activities which was enjoyable for all. It was lovely to see everyone working together and laughing at the same time. I personally enjoyed getting to know the team members on my table; why they joined the service and got to know their personality a bit better. A fab day!!
Thanks everyone! – Maggie
I would like to say a huge thank you to you all for all the kind words, gifts and good thoughts on my retirement.
I have truly loved my time here at Compass, it has been a huge privilege to be part of such a caring and compassionate organisation, each one of you doing the very best you can for our children, young people and families every day. I have been so lucky to have worked with, been supported by, and learnt so much from such great people. I will remember you all with great fondness.
I know that you will continue to positively impact on the lives of so many people and go on as an organisation to even greater things. My love and all good wishes go with you.