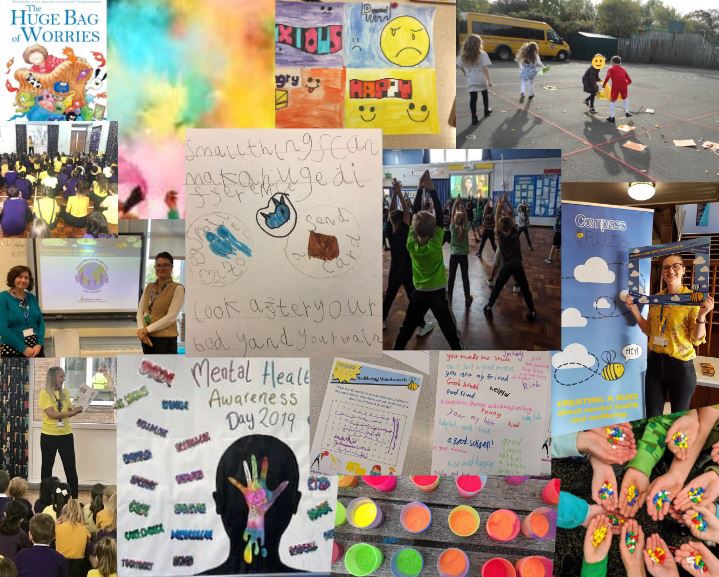 Published on: October 18, 2019
Where do we even begin…?
Compass BUZZ are overwhelmed by the effort our North Yorkshire schools went to to raise awareness of Mental Health and Wellbeing in their schools. We had a vision, we had ideas but at no point did we ever think that schools would be going above and beyond in the activities they chose to complete for World Mental Health Day 2019. We had a colour dance, we had a sponsored run, we had cake sales, we had Teepee making – the list just goes on!
Compass BUZZ decided for 2019 World Mental Health Day that we would really like to reinforce the protect, promote and improve vision from the Future in Minds Strategy. We wanted to really raise the profile of mental health and wellbeing; as well as creating packages of interactive activities that schools could complete which were fun for children and young people. Our Wellbeing Workers decided to use the nationally recognised '5 ways to wellbeing' which is an evidence based tool that we can all use in everyday life. By selecting just one a day we can improve our wellbeing and live a full and creative life. We asked our schools in all areas of North Yorkshire to select which of the '5 ways to wellbeing' they would like to focus on. It soon became very apparent to our Wellbeing Workers that the schools were really excited about these ideas and wanted to select all five packages. Of course we allowed this to happen, we want our schools to stay passionate about mental health and wellbeing and embrace Compass BUZZ and our fabulous resources.
Each package included a Wellbeing assembly; I witnessed one of these in action on the day and it was brilliant – well done Brompton Primary School. We had resources around mindfulness, colour runs, speed friendship conversation starters, random acts of kindness challenge, wellbeing quiz, make your own stress ball activities and so much more.
We asked schools to tweet us @compassBUZZ on the day and to invite their Wellbeing Worker to get stuck in. Heather our Wellbeing Worker in Craven participated in Greatwood Primary Academy's sponsored fun run. Heather stated that "I really do have the best job. I have loved today". Ashleigh our Wellbeing Worker in Hambleton & Richmondshire attended a wellbeing assembly and tepee erecting at Brompton Primary School, Alice from Harrogate had the exciting opportunity of watching the colour dance at Masham Primary School, Paul another Hambleton & Richmondshire Wellbeing Worker joined Northallerton School to help deliver a year 11 assembly and a parent event around anxiety and stress, Chloe from Selby delivered a wellbeing assembly and Nadine had stand at Scarborough TEC.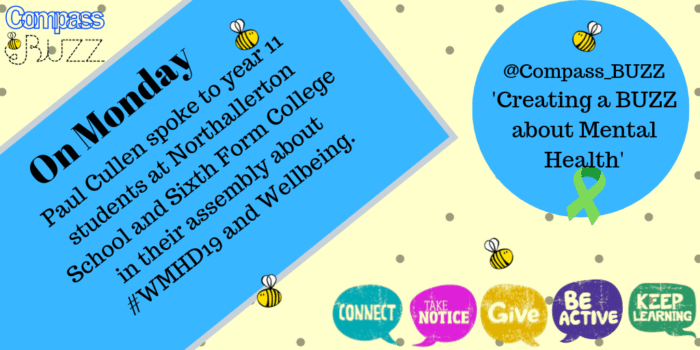 Our Wellbeing Worker Becks from Harrogate was involved in the Public Mental Health Partnership Conference talking about the support Compass BUZZ offer.
The tweets kept on coming, the emails were flying in sharing what schools had done for the day and how appreciative they were of the resources. Overall we had the most enjoyable time in our schools and from what we saw they had the exact passion and commitment that we wanted to see to get mental health awareness buzzing around North Yorkshire!