Published on: November 29, 2022
Compass's Connect for Health (C4H) service manager Karen Cornick has been awarded the prestigious title of Queen's Nurse.
Karen, who leads 27 nurses at the Warwickshire school nursing service, received her award at a ceremony in London yesterday.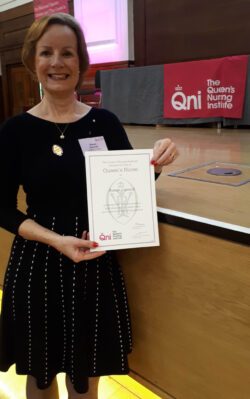 She was delighted to receive the title. "This is the pinnacle of my nursing career," she said.
"Throughout my career I have been privileged to work with, and learn from, some incredibly inspirational leaders. They helped mould me into the nurse I am today.
"I had to demonstrate how I led the Connect for Health school nursing service, encouraged learning and how I strive for high quality nursing care."
Rachel Bundock, Chief Executive Officer at Compass, said: "I couldn't think of anyone more deserving than Karen to be awarded the honorary title of Queen's Nurse.
"Karen's dedication and commitment to the school nursing community and improving the health and wellbeing of children and young people is inspiring to all of us who have the immense pleasure and privilege of working alongside her.
"Karen's incredible ability to nurture, motivate and inspire others and drive forward excellence and high-quality care in the services she leads is special and as a result is hugely respected and admired by those who come in to contact with her.
She said that even during times of great adversity, Karen put children and young people "front and centre" in all that she did, often choosing to take the hardest path but in the knowledge that the impact resulted in far better outcomes for more young people.
And she added: "These are qualities that are the essence of a Queen's Nurse. Congratulations Karen, a remarkable and thoroughly deserved honour for such a special nurse."
The Queen's Nurse programme brings together community nurses to develop their professional skills and deliver outstanding patient care in the community.
When appointed, Queen's Nurses join a supportive professional network with the opportunity to join free development programmes, bursaries, and networking. The title is official recognition of a nurse's commitment to improving care for patients.
Karen said: "When I first started out as a nervous student nurse, I could never have imagined that I would one day become a Queen's Nurse."
C4H Team Leader Becky Ellis said: "Since commencing her role with Connect for Health, Karen has transformed the School Nursing Service in Warwickshire. Karen always strives for that gold star service for all service users but also for all staff.
"Karen always shares her wealth of knowledge with staff, encouraging them to develop and grow within their roles. She is so good at motivating the team and individuals."