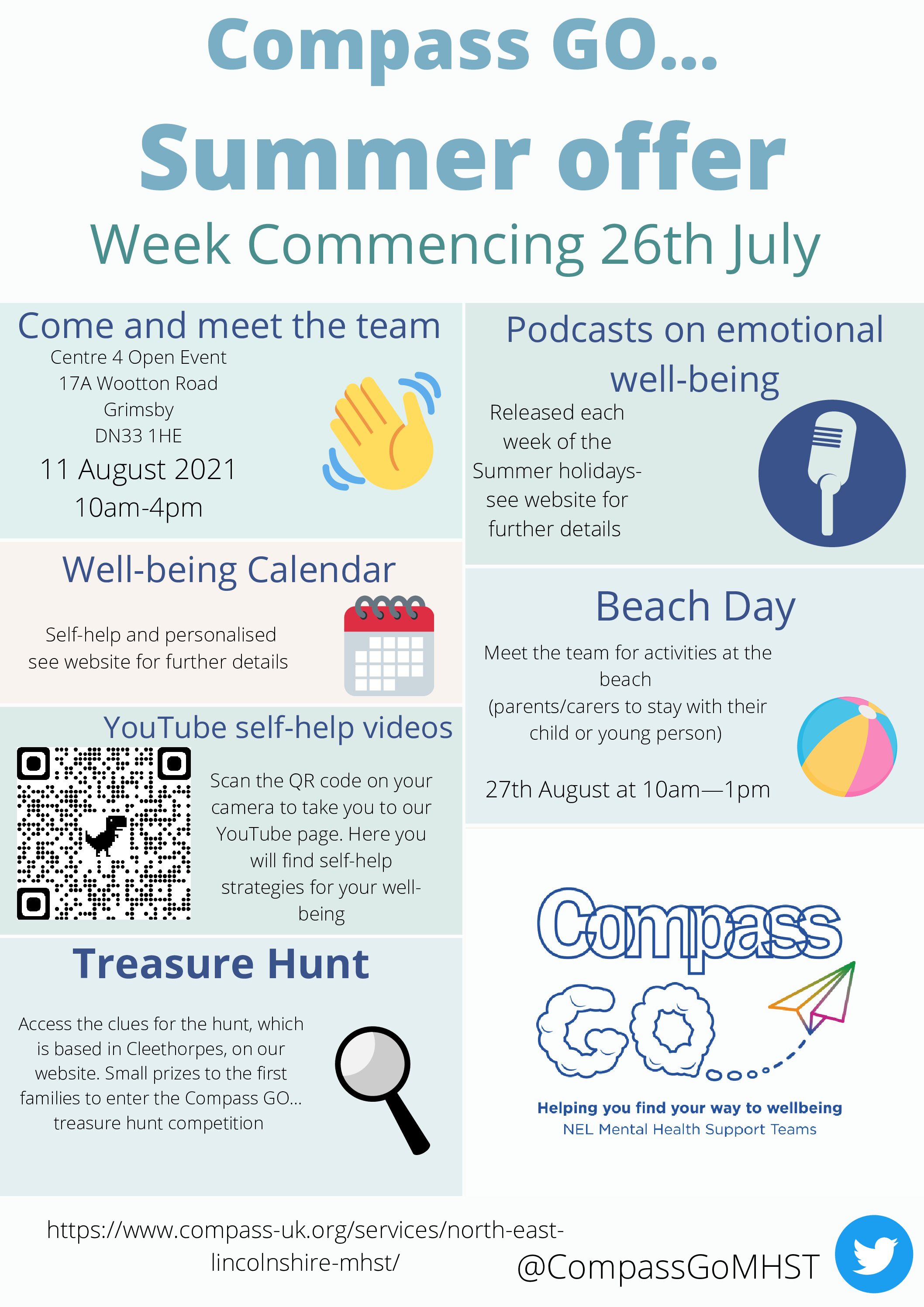 Published on: July 22, 2021
All of the above activities are available throughout the summer holidays and have been organised for all parents/carers, children and young people to take part in together.
Compass GO… Treasure hunt – 30th July
Download our Treasure hunt clues below and head to Cleethorpes promenade to join in the fun at any point during the summer holidays!
Read the clues and go to the place you think the riddle is describing…
Make sure you look in the windows and see what letters you can find, you will need to collect all letters to submit the word they spell for chances to win in the raffle!
Submit your entries by 31st August 2021 to nelincsmhst@compass-uk.org and all correct words will be entered into the raffle. Please put your contact details into your submission so we can contact the winners!
Compass GO… Weekly Podcasts on emotional wellbeing
We will be uploading 6 podcasts over the summer holidays on the following topics:
Week 1 – Emotional wellbeing and self care
Week 2 – Anxiety
Week 3 – Negative automatic thoughts
Week 4 – Self esteem
Week 5 – Low mood
Week 6 – Transitions
Come and meet the Compass GO… team
Come and meet our fantastic Compass GO… team on Wednesday 11th August 2021 between 10am – 4pm at Centre4 (17A Wootton Road, Grimsby DN33 1HE)
Bring your families and drop in for a chat with our team, have some coffee, tea and cake and join us for some fun activities and information sharing stalls!
Compass GO… wellbeing calendar
We have worked closely with the children and young people in our area to create the Compass Go… Wellbeing calendar which you can click to download below.
Page 1 shows an example week
Page 2 is a blank week for you to print and fill in your activities
Page 3 is some example activities for each category, feel free to be creative with your ideas and let us know what exciting activities you have filled in your calendar with via our email – nelincsmhst@compass-uk.org
Compass GO… Beach day
Parents/carers must stay with their child or young person
Come and meet the team for some fun activities at the beach on 27th August from 10am – 1pm near to Cleethorpes Leisure Centre end of the beach – keep your eye out for the Compass GO… flag!
Join us for a fun day out of rounder's, shell painting and sand castle building.