Published on: April 26, 2023
Our education mental health practitioners at Compass Bloom have been making new resources for children and young people they hope will help support their mental health and wellbeing.
The playing card sized laminated messages cover topics such as controlling your emotions, alternatives to self-harm, worry management, self-esteem self-help and coping with low mood. The cards fit together on a key ring.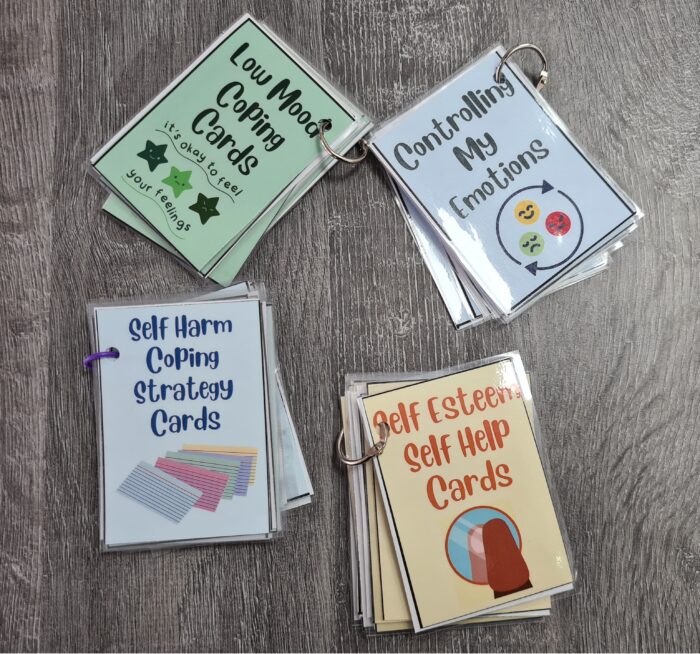 Lucy Taylor, an education mental health practitioner, said they were intended to remind young people about what had been discussed during sessions. It was hoped they will be particularly useful for anyone who might need extra support
She said: "We were ending sessions with children and although we do a relapse prevention with them we were not really giving them anything to take away. I do think it's really nice for them to have a reminder about some of the things we've been talking about during our sessions.
"For instance, we've got the self-harm coping cards which include crisis numbers and important websites mentioned on them so if they feel like they need some support or need to speak to someone they can access some helplines, in case they ever feel like acting on some of their thoughts in the future."
Lucy added: "We've got controlling my emotions cards for some of the children who feel like they might get angry or are unable to process how they're feeling. It includes information about the bodily sensations of how we feel when we do get angry and how we are able to get over it by using some common distraction techniques."
Another Education Mental Health Practitioner, Chelsea Edgar said: "The self-esteem cards have got tools and strategies that young people can use after they've had their intervention with us. This set looks at negative automatic thoughts and how to manage those thoughts. It also has got some tips on how you can boost your self-esteem."
"We've made low mood coping cards and this touches upon all the different things that we cover in the low mood intervention. It also covers symptoms of low mood so that when we finish, they can take them away with them and can have it as a bit of a reminder."
Lucy said: "It makes me feel proud as a practitioner that I can help some of these young people. It's a real achievement to help them."