Published on: February 21, 2023
Staff at our Safe East service ran two well attended sessions for young people in Tower Hamlets during National HIV Testing Week, working in close partnership with local youth workers.
Wellbeing nurse, Diane Estwick said: "We were encouraging anybody and everybody who is sexually active to get tested and particularly to be tested for HIV, just to exclude it."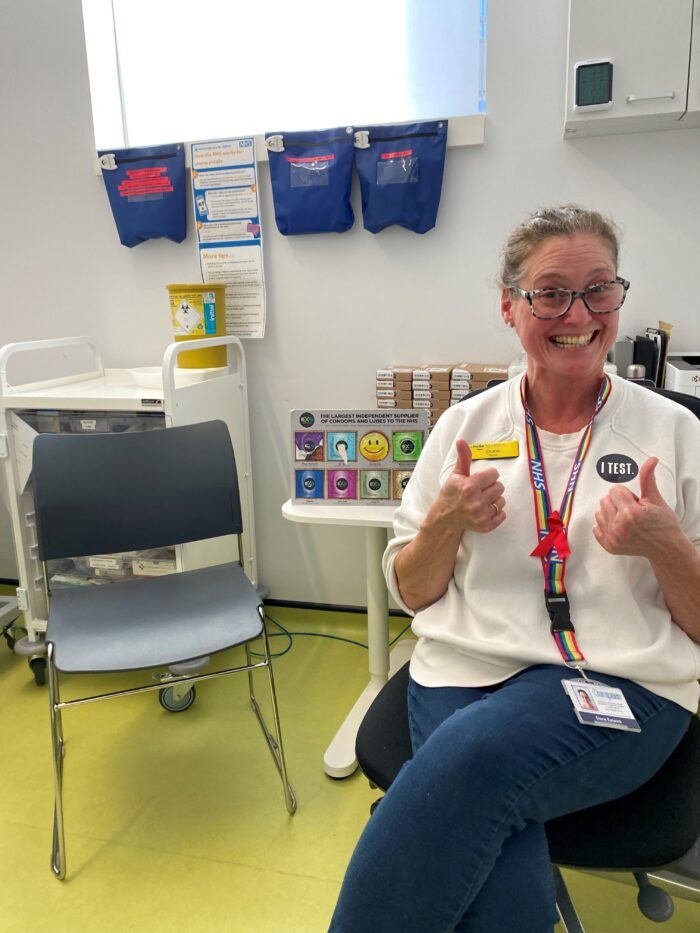 The service ran sessions, at the Spotlight youth services premises at at Eastside Youth Centre in Bow, London E3 and at Langdon Park, in London, E14, where Safe East is based. They were held during the weekly Health Spot activity, a collaborative service between primary care (GP Helen Jones), Safe East, Spotlight Youth Centres and Docklands Mental Health Service – offering a one stop shop for young people to access holistic health care.
Diane said: "The sessions were primarily to raise awareness for young people from the ages of 10 to 19, about the importance of getting tested generally, but most specifically myth busting and discussing HIV.
"London is where the highest level of HIV is. And it is endemic in in some communities. There are a lot of adults who are positive for HIV in London who don't necessarily know that they are."
She said that she explains to the young people that contracting HIV is not a death sentence any more. But it is crucial to get tested. With medication, people with HIV can live normal lives.
It was also important to get the general message out about Safe East' ' support.
Diane continued: "Young people have got so many pressures on them now that the reality is that we're firefighting a lot of the time. But even if they're not using contraception or using condoms, they know where they can come to get tested.
"They know where they come if girls are pregnant. If they want to talk about that and their options, they know where that can come and get trusted advice."
Strong Partnership working
She explained that Safe East's partnership with youth workers at Spotlight was extremely important. The Spotlight workers had developed a very good relationship with a lot of the young people and would often suggest a chat with a Safe East worker if they felt a young person could benefit.
Diane said: "The fact that the youth worker has introduced us means we've got that trust. It takes time to build up a relationship with a young person, so if you can do small partnership working and buy that credibility, it makes the process so much easier."
Around 30 young people in total attended the HIV testing sessions.
She continued: "The message that goes around the peer groups is crucial and a lot of our referrals, certainly from a sexual health point are peer referrals. Somebody will bring their mate in to see me or the boys will bring the girls in if they think they need emergency contraception. And that's what we want.
"And then we can have the more important discussions about respect and consent and how they treat each other and healthy relationships – all of those are the things that we can bring in. But you can't go too heavy to start with. The important thing is they start talking to you and then we have our own agenda, obviously, ultimately."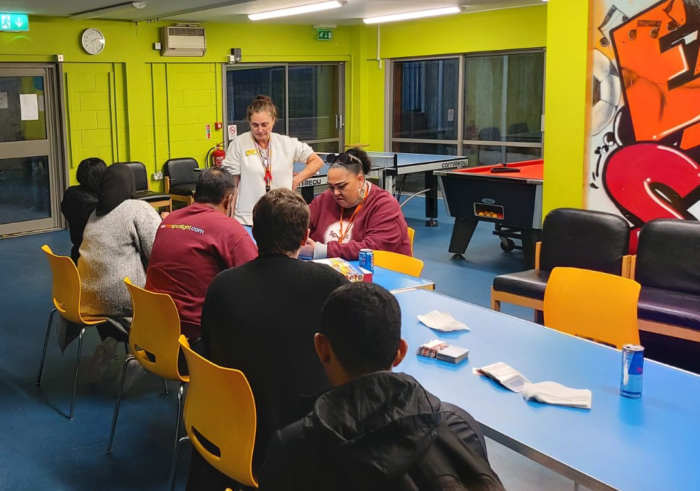 Safe East Team Leader, Vicky Jones said: "We aim to raise awareness of the importance of testing, to "myth bust" and to ensure equity and access to testing for all sexual preferences. We want to ensure that young people have a voice and that rights are protected and promoted."
What our valued partners at Spotlight say
Treaser Jassal, of Spotlight, said: "Having Safe East based physically in the youth centre has enabled us to "softly" introduce young people to staff within Safe East and explain the help that can be provided.
"Young people are in the building every evening, so they are then able to "drop in" without having to travel to another site or discuss anything further with their respective youth worker.
"Equally, if Safe East are working with young people that may feel isolated and would benefit from the many activities at Spotlight, then Safe East staff will ask our youth workers to support them – it is a mutually beneficial arrangement which significantly reduces barriers to access to services for young people.
"Many of our young people have then raised the awareness of Safe East services within their peer group, which attracts young people to Safe East and also to Spotlight".
Treaser said Spotlight had worked closely with Safe East for the past five years and had benefited from "a great working relationship with Team Lead Victoria Jones who has always championed Spotlight Services".
Safe East staff have often presented workshops to young people at Spotlight and have been based on a regular basis within youth centres across the Borough.
Safe East staff are well respected and have a reputation for going that extra mile for the young people of the Borough and have built a reputation that can be trusted.
Treaser said: "We were delighted when Safe East moved to Spotlight Langdon Park in February 2022 as it was a natural fit for youth services within Tower Hamlets.
"It is fantastic to have the specialist knowledge in relation to substance misuse support, emotional wellbeing and sexual health that Safe East can offer."