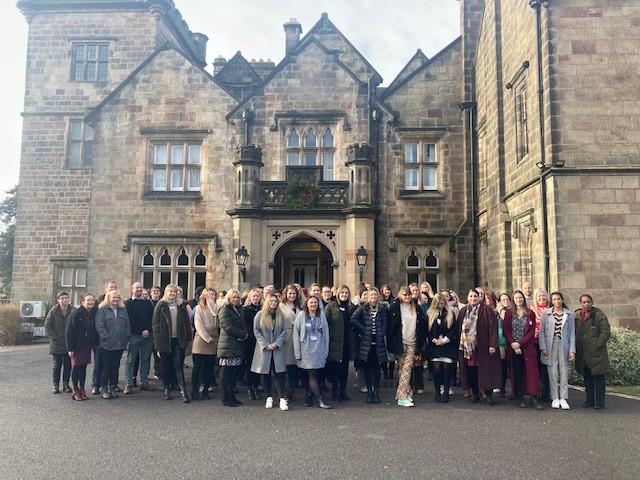 Published on: January 12, 2023
Seventy new staff have been welcomed to Compass in a three-day induction event to launch the new Compass Changing Lives MHST service in Derby and Derbyshire.
Sue Berry, Assistant Director of Operations for Compass Changing Lives said the event, which took place at the Marriott Breadsall Priory hotel, near Derby was "really busy" and "a great success".
Sue said: "It was an opportunity for existing and new staff to come together and learn about Compass and how we work.
"Between them, the team have such a huge amount of skills and experience. I am really looking forward to working with everyone, as together we can achieve so much for children and families in Derby and Derbyshire.
"The team had some fun – there was a lot of competition around the taskmaster challenges which involved drawing and dancing.."
Implementation Manager, Saffron Mason, said: "We are taking the team on the journey with us. Developing the service; it's exciting and we are doing it with people, rather than to people."
Day one of the induction included a warm welcome from Jan Smith, the Operations Director for Compass, alongside Saffron Mason who talked about the importance of working together.
The new staff took part in sessions about mandatory learning, ongoing team meetings, study time and our code of conduct and dress code. HR colleagues spoke about internal processes including how to register for leave and expenses and the performance review process. IT equipment was distributed and systems were explained and discussed.
Alison Walmsley, interim HR specialist has been running the HR introduction sessions alongside Donna Wilson, the HR business partner. Alison said: "We had a really great day. We have been taking them through all the HR policies and procedures, helping them find their feet and hit the ground running from day one.
Team building was a major part of the event and included dancing, drawing whilst blindfolded, 'mummifying' colleagues in toilet roll and working together to build a tower out of spaghetti and marshmallows.
The following two days included presentations from Rachel Bundock, the CEO of Compass, who spoke about the charity's mission, vision and values and the history of the organisation.
Saffron presented the Compass MHST model of working, covering our locality-led teams, interventions and how the service will support schools to implement and maintain the whole school approach to mental health and wellbeing.
There were further presentations on incident reporting, health and safety and how communications colleagues will support the work of the MHST staff.
Trainees were also given the opportunity in a question and answer session with Helen Swaby from the University of Derby to discuss their new university courses to become qualified Educational Mental Health Practitioners.
Staff members at Compass Coventry, which launched in December, also took part in the induction.
Lynne Tyler who is a Training and Consultation worker for Compass Coventry absolutely loved taking part in the induction "It's been a really good day. The activities that we have been doing have been a lot of fun and they have been great to enable us to work better as a team and get to know each other.
Lynne went on to say; "This is my second project that I am involved in with Compass and I just love it and working for Compass.
Christina-Mary Wilford, a new Supervising Practitioner for Compass Changing Lives really loved the induction days. "I feel really optimistic, really happy and excited to work with Compass and it has been absolutely brilliant to see everyone all together.
"I found it really helpful having some team building exercises to do over the last few days as I came in not knowing anybody or having met my team, it was a really nice informal way to break the ice and get some fun challenges and laughs along the way"
And Saffron added: "We want to create a service that truly meets the needs of the children, young people and the communities that we serve, rather than the perceived needs. By developing the service with children and young people alongside our staff we will achieve that.
"Building on the success of the team already, there's lots of great things already happening. So it's about how we can improve that, and go from strength to strength for our children and young people."
Derby , Derby and Derbyshire Mental Health Support , Derbyshire , meet the team , mental health , MHSTs , Staff Induction