Published on: May 24, 2023
Year six, GCSE and A level students in West Lancashire have been getting some top tips on how to cope with the stress of their upcoming exams.
Compass Bloom Supervising Practitioner, Adele Normington, has been busy delivering 'beating exam stress' workshops at schools and colleges in Skelmersdale, West Lancashire to support children and young people during the demanding exam season.
Adele said: "We started with getting to know the children and their worries around their exams, before we went into any strategies. We wanted the pupils to understand what's happening to their body and mind whenever they're feeling stressed or worried."
Adele discussed the challenges and pressures associated with the exams. She said that the goal should not only be to excel academically, but also to take care of their mental and emotional wellbeing.
She provided children and young people with some useful exam stress coping strategies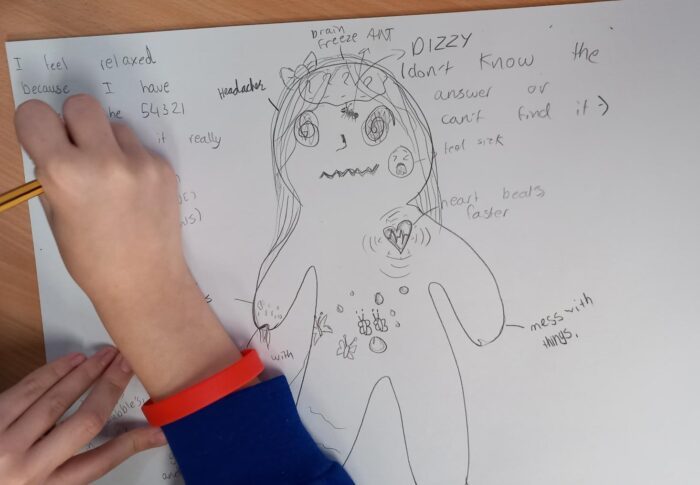 Understand your thoughts, feelings and behaviours: Adele got to know students' worries about exams through an activity in which they drew and labelled parts of the body affected by worry. This helped them understand their reactions and felt relieved that others felt this way too.
Try to ground yourself with a breathing technique: The workshop provided students with practical techniques to manage exam stress. Adele taught students breathing exercises to relax, reduce anxiety and improve focus during exams.
Be kind to yourself: Adele emphasised the importance of being warm and understanding towards ourselves when we fail or feel inadequate. She asked students to write positive statements, such as "I will pass my exam" or "I will do my best," to remind them that setbacks and challenges are normal and part of the learning process. By nurturing a growth mindset, Adele increased students' confidence and they all agreed they felt better and relaxed.
Try to find balance and make time for things you enjoy: The Supervising Practitioner stressed the importance of studying and caring for oneself. She said some A-level students had given up activities, such as running or socialising, during exam prep. A good self-care routine is key to reducing worries.
Talk to others about how you feel: After the workshops, children and young people felt more empowered and prepared to face exams. Adele emphasised the importance of seeking support from teachers, peers and family during exams.
Adele also received positive feedback from teachers. One of the year six teachers, Cath Morris, at St John's Catholic Primary School thanked Adele for coming to see them and sharing top tips and coping strategies to help and support children in the run up to SATs. She said: "It was really helpful and ideas we can continue in the classroom. It has helped some of our children understand their thoughts and feelings."
Workshops were delivered to year six children at Delph Side Community Primary School and St. John's Primary School and an assembly was delivered to year 11 students at Our Lady Queen of Peace Engineering College in Skelmersdale. Adele also spoke to A-level students about managing exam worries at a drop-in at West Lancashire College.
These workshops served as a reminder that academic success should not come at the expense of mental wellbeing. By equipping children and young people with effective coping mechanisms and promoting self-care, the workshops have had a lasting impact on children and young people, enabling them to tackle exams with resilience and a healthier mind-set.