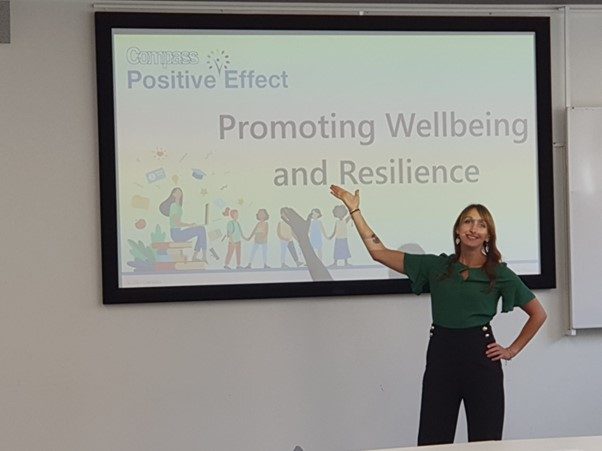 Published on: October 25, 2023
Our Positive Effect Wellbeing Trainer, Danielle Grant has delivered a one hour workshop to 35 student teachers at Nottingham Trent University.
The session focused on 'Promoting Wellbeing and Resilience' and was part of the Inspiring Leaders programme which offers the SCITT teacher training courses through Nottingham Trent University.
Danielle said: "The lecture was fantastic and really highlighted the importance of passion, organisation and on focussing on your 'North Star'."
Having supported teaching staff and support staff for a couple of years now on the DFE Senior Mental Health Lead training, Danielle has seen first hand the stress and anxiety that teachers face.
She said: "With a constant risk of burnout, teachers are incredibly hardworking and yet still under-appreciated members of our community."
Danielle introduced "Mental Health and the continuum", and worked through how to build resilience.
She concluded with an interactive activity to promote the five ways to wellbeing; making sure everyone was aware of their strengths and areas that may decline if they were not looking after themselves or if work was having a negative impact.
Danielle said: "The five ways to wellbeing has been my most used training tool. It is so important that everyone knows how they can support their own wellbeing. We owe it to ourselves to understand the 5 areas that can help us and which areas we need to focus on or enlist others to help us with."
She said the day was a huge success. She received a round of applause from the trainees and "left on a real high".
And she added: "I love when a good training session comes together. Coming home and telling my family all about the day soon helped instil in me just how valuable the day was."