Published on: August 14, 2020
Compass Positive Effect webinar series
We delivered our free webinars 'Supporting pupil & student wellbeing after lockdown' in July and were delighted to welcome 335 education leaders and professionals to our sessions.
We had some lovely feedback and lots of interaction from attendees, including one teacher who now plans to use some tutor time in the new term to enable students to express their feelings through a rap, story, poem or song.
We will be running one further session of the webinar, ready for the new term, on 2nd September and are delighted to announce a new FREE Compass Positive Effect webinar 'Championing mental wellbeing in schools & colleges'.
REGISTER HERE for one of our upcoming sessions to learn:
The meaning of a whole school approach to mental wellbeing
The importance of staff wellbeing
About the benefits of peer mentors
How Positive Effect can support you
Your questions answered
You asked… if we could provide some examples of (non-leading) open questions to help you find out about children and young people's experiences of lockdown.
We responded… here are some simple questions, centred around the 5Ws and H (Who, What, When, Why, Where and How):
What does Coronavirus make you think of?
When you think of your time spent at home, how does this make you feel?
What did you enjoy about your time at home?
What would you like to change about your time at home?
Tell me about a time when you felt happy during lockdown.
When did you feel the saddest? and why?
Please remember our examples may need tailoring to each child's needs.
You can also check out our questions resource for more ideas on the different questions you can use during conversations with children and young people:
Analysis
NHS Digital – Mental Health of Children and Young People in England, 2017
If you have not seen this survey before – still relevant in 2020 – it provides a great source of data on children's mental health trends.
Whilst some surveys can be specific to groups this survey used clinically trained raters throughout and captured data from a wide population.
Key findings showed that: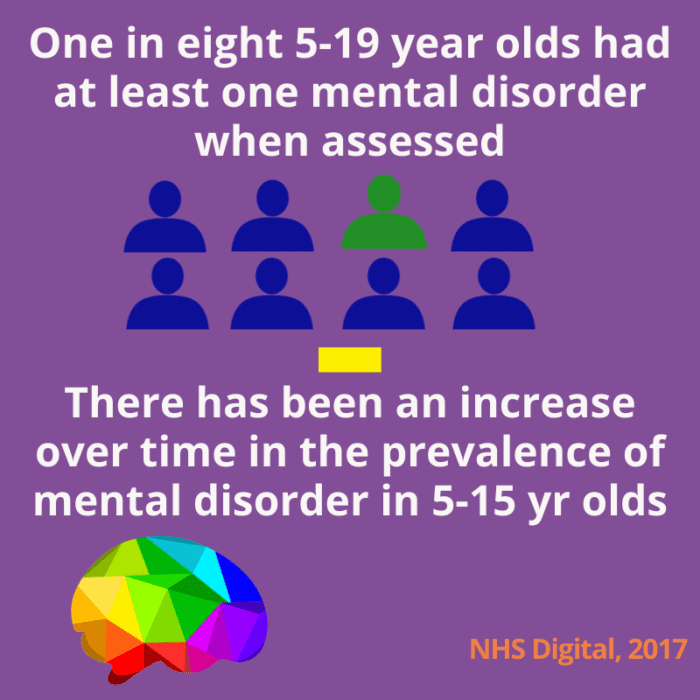 It is really important for anyone working with children and young people to remember these findings, think about:
How many children in your classroom, school or college could be impacted?
How are you and your school supporting their needs?
Young Minds – COVID-19 summer 2020 survey
Young Minds carried out a survey of 2,036 young people with a history of mental health needs between Friday 6th June and Monday 5th July. This was a period in which the Government announced measures to ease lockdown restrictions, including the target for schools to reopen to all students in the Autumn term.
The results reveal that:
80% of respondents agreed that the Coronavirus pandemic had made their mental health worse. 41% said it had made their mental health "much worse", up from 32% in the previous survey in March. This was often related to increased feelings of anxiety, isolation, a loss of coping mechanisms or a loss of motivation.
87% of respondents agreed that they had felt lonely or isolated during the lockdown period, even though 71% had been able to stay in touch with friends.
Among more than 1,000 respondents who were accessing mental health support in the three months leading up the crisis (including from the NHS, school and university counsellors, private providers, charities and helplines), 31% said they were no longer able to access support but still needed it.
Of those who had not been accessing support immediately before the crisis, 40% said that they had not looked for support but were struggling with their mental health.
11% of respondents said that their mental health had improved during the crisis, an increase from 6% in the previous survey. This was often because they felt it was beneficial to be away from the pressures of their normal life (e.g. bullying or academic pressure at school)
This recognises that young people with a history of mental health needs have really been affected by the pandemic, so it is worth considering:
What plans you have in place to ensure they are being supported in your school or college.
How you are communicating with young people to ensure they feel fully supported and to help reduce their feelings of isolation and loneliness.
Office for National Statistics – Coronavirus and the social impacts on young people in Great Britain: 3 April to 10 May 2020
ONS have looked at indicators from this opinions survey on the impact of the Coronavirus (COVID-19) pandemic on young people (16-29) in Great Britain. They have found that:
Young people reported feeling lonely some of the time or occasionally more often than those in the older age groups
Young people on average were less satisfied with their lives than the oldest age groups
We typically associate issues relating to loneliness with older people, so this survey is important in highlighting how the pandemic has impacted the feelings of young people.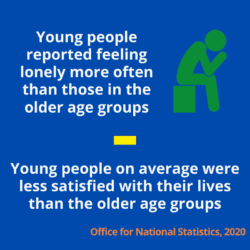 We should consider:
Are the two highlighted findings linked?
How does this feeling of loneliness impact on how satisfied young people feel with their lives?
What can we do to ignite and develop future aspirations during this time?
Statutory guidance
The new Keeping Children Safe in Education statutory guidance for everyone who governs, works, or volunteers in schools and colleges, has been released for implementation from September and can be accessed HERE.
One of the key changes relates to mental health. The guidance now provides more information on mental health and how preventing the impairment of children's mental and physical health or development is part of safeguarding.
This leaves the question: are your safeguarding procedures set up to recognise mental health difficulties?
If not get in touch and we could help you prepare.
Top tips and resources
The Teacher Wellbeing Index 2019, uses a series of indicators to benchmark education professional's mental health and wellbeing. The study found: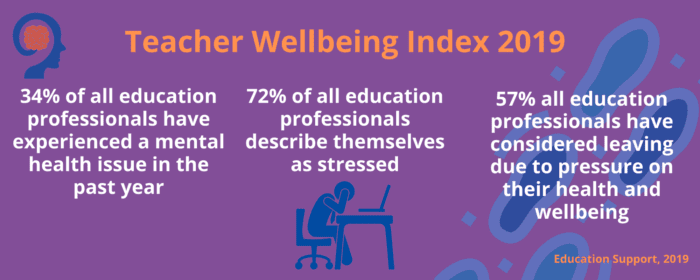 With 1/3 of education staff stating they have experienced mental health issues in the past academic year, how is your school supporting the mental health of its staff?
If you have not advertised their services yet, make sure your staff and colleagues know about Education Support, a charity dedicated to supporting the mental health and wellbeing of education staff. You can call their free, confidential helpline 24/7 on 08000 562 561.
You can also contact us to talk about how integral staff wellbeing is to your whole school approach to mental health and wellbeing.
Tell us how we can help you
T: 01904 636 374