Compass is delighted to announce we have been awarded the contract to deliver the North East Lincolnshire Mental Health Support Teams (MHSTs)!
This service will be one of the national MHST in educational settings Trailblazer sites (wave 2 of 3) across England to increase the CYPs mental health workforce and is a response to the governments Future In Mind's Green Paper recommendations. The Trailblazer and national programme is being overseen centrally by NHSE, HEE and DfE.
Our service model will ensure children and young people access the right early help, in the right setting removing duplication and preventing CYP/families being 'bounced' in-between services via:
Delivering evidence based interventions for mild to moderate mental health and emotional wellbeing needs
Supporting designated senior MH lead in each school/education setting
Providing timely advice to school and college staff
We are now recruiting to roles within this service:
www.compass-uk.org/work-for-us/vacancies/
Further information about this award is available via the North East Lincolnshire Council website: https://www.nelincs.gov.uk/mental-health-support-team-provider-announced/
Meeting and greeting our stakeholders
On 22nd January three members of the Compass team attended a 'meet and greet' session with around 60 invited North East Lincolnshire MHST stakeholders including education staff, school nurses and representatives from other mental health and wellbeing services.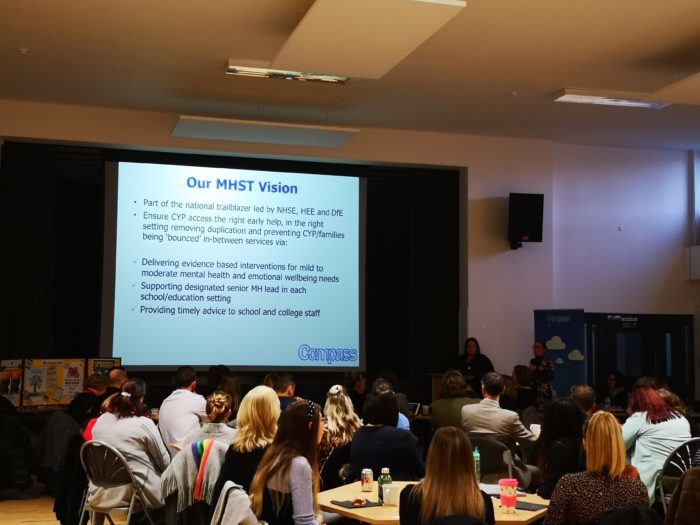 The aim was to introduce Compass, set out our MHST vision and how the new teams will support children, young people, families and professionals in a range of educational settings.
As part of the session we delivered a presentation about our North Yorkshire School Mental Health and Wellbeing Project (Compass BUZZ) and introduced some useful tools and ideas that have been successfully adopted in other Compass projects.
We also outlined the commitment sought from education providers across the region, in support of the project and set out the next steps.
This was a great initial opportunity to meet face to face and to explore any questions, and we see this as a positive start to an ongoing dialogue with our new partners in North East Lincolnshire.
We have received some positive feedback from attendees, who are excited about the pilot, and it has already prompted discussion locally; such as thinking about how practitioners will be co-located within education settings.
Keep checking in for regular updates about this brand new, exciting service!